Sharlot Hall Award Recipient 2014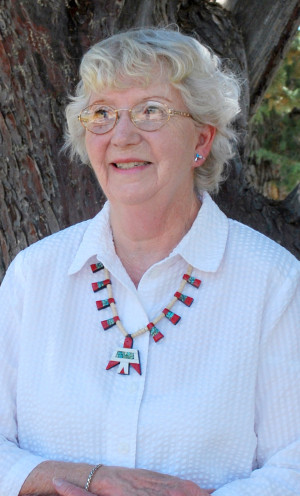 Sylvia first moved to Prescott in 1948 when her father, Dr. James Soderstrom, was transferred to Fort Whipple. Sylvia attended Washington Elementary School and went through the Prescott school system graduating from Prescott High School in 1955. Sylvia graduated from Arizona State University in Tempe in 1959 with a Bachelor of Science in Elementary Education. Sylvia married Bill Neely, who was also a teacher. Not wanting to raise a family in the Valley, they chose to move to Prescott in 1966. Like her mother, Juanita Soderstrom, Sylvia has been active in the community. Sylvia was very active with the local Girl Scouts organization serving for over ten years as a leader in all of their endeavors.

In the early 1980s when their daughters, Lisa and Beth, were in high school, Sylvia began her long association with the Sharlot Hall Museum as a volunteer. Always a teacher, Sylvia worked with the young people at several of the first Folk Arts Fairs at Sharlot Hall in the cornhusk and clothespin doll booth. Sylvia has volunteered at Sharlot Hall Museum over 40 years. Sylvia started doing oral histories with Mona McCroskey, focusing on preserving the history of old timers who had been associated with education. Realizing that the Hispanic and African American members of the Prescott community had been somewhat overlooked, she began including these groups. Sylvia has done in excess of 170 interviews, which helps preserves Arizona history and which are archived at the Sharlot Hall Museum Archives.

Sylvia has been the driving force in what has been called "The Old Folk's Gathering" which is a yearly event where the oral history interviewees gather for coffee, punch and cookies and to listen to live music. This is a wonderful opportunity for the older citizens to visit with each other and reminisce about old times in Yavapai County.

When Sylvia retired as a school teacher in 1995 she found the Prescott Public School needed someone to record and collect school history and gladly stepped up for this ongoing project. This included the 100th anniversary celebration for Washington School in 2005 and the Lincoln School celebration in 2009. In 2006, she received the Stewardship Award for the Lincoln School 100th anniversary celebration from the City of Prescott. In 2008, she received the Elisabeth Ruffner Award for Historic Preservation for her work on the 100th anniversary celebration for Washington School (2005) and the Lincoln School celebration (2006).

Sylvia has written numerous "Days Past" articles published in the Prescott Courier, mostly pertaining to her awareness and preservation of school history.

Sylvia volunteers tirelessly for all of these groups and events out of her sincere love for Prescott, Yavapai County, and all of Arizona and brings a valuable contribution to the understanding and awareness of Arizona and its history. Sylvia continues with this mission.