Sharlot Hall Award Recipient 1992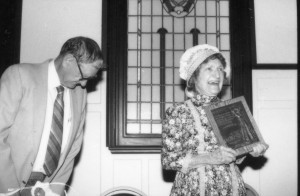 Marguerite Noble, who currently resides in Payson, was born in Tent City at Roosevelt Dam. She attended school at Punkin Center and Florence, and received bachelor and masters degrees from Arizona State University. She taught history and literature in Phoenix for many years. Her articles on Arizona history have appeared in numerous local, state, and national publications, including Arizona Highways and the New York Times.
Her historical novel, Filaree, is an account of the life of a pioneer woman who raised a family and helped run a ranch in turn-of-century Gila County. After its initial publication, Mrs. Noble received the 1988 Spirit of Arizona Award from Governor Rose Mofford during Admission Day ceremonies in the Old Capitol Rotunda. The book has been reprinted several times. A second book awaits publication, and she is working on a third, on Mormons in Arizona.
Marguerite Noble has devoted her life to promoting greater awareness of Arizona's varied and colorful history. In pioneer dress and sunbonnet, she lectures in school classes, historical societies, and public groups, stressing the importance of teaching the history of Arizona in the schools.