By Mick Woodcock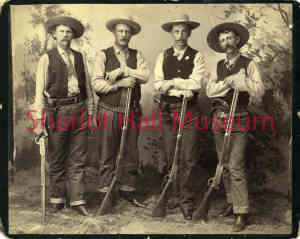 William Owen "Buckey" O'Neill was born February 2, 1860, likely in St. Louis, Missouri, to Irish immigrant parents. In 1879 he came to Arizona, and after stays in Tombstone and Phoenix, arrived in Prescott in 1882. He was nicknamed "Buckey" for betting heavily in faro games, (called "bucking the tiger" for the tiger illustrations on faro cards).

During sixteen years in Prescott, O'Neill worked as a court reporter, editor of the Arizona Miner and editor and publisher of Hoof and Horn—a paper devoted to the Arizona cattle industry. Elected Yavapai County Probate Judge and School Superintendent, Yavapai County Sheriff and Tax Assessor and Mayor of Prescott, Buckey also ran unsuccessfully for territorial delegate to Congress.

In 1884 Captain W. F. R. Schindler was posted to Fort Whipple, bringing his wife, Rosalie and daughter, Pauline, who taught elementary school in Williamson Valley. O'Neill first saw Pauline at a traveling medicine show and wrangled an introduction. When Pauline married O'Neill in April 1886, her husband announced his happiness in Hoof and Horn, prescribing the "right kind of girl" as what every man needed to keep his head above water.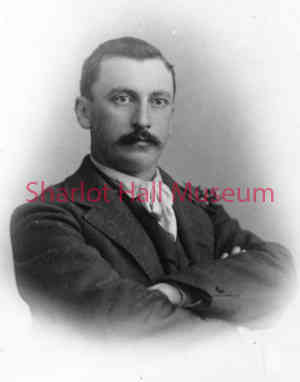 On January 1, 1889, O'Neill became Yavapai County Sheriff. On March 20, four bandits robbed the Atlantic and Pacific Railway's eastbound passenger train during a wood stop at Canyon Diablo, which was within Yavapai County at the time. Sheriff O'Neill formed a posse to arrest them. By April 15, he was back with four prisoners after a chase that led into Utah.

With prosperity gained from onyx mines near Mayer, he promoted a railroad to the Grand Canyon and copper mines under its rim. In 1894 he led a Smithsonian expedition to the prehistoric ruin called "Montezuma's Castle on Beaver Creek in the Verde Valley."

O'Neill was First Lieutenant in the Milligan Guard, 1884, and Captain of the Prescott Grays, 1886, both local militia units. He also served as Adjutant General of the Arizona Territorial National Guard. According to Dale L. Walker in Death Was the Black Horse, O'Neill, James McClintock and Alexander Brodie petitioned Governor McCord for permission to raise "one thousand Arizona Cowboys" to fight in Cuba.

When the Spanish-American War broke out in 1898, O'Neill was Prescott's Mayor and the Adjutant of the Arizona National Guard. Resigning those two offices, he was commissioned Captain of a troop of volunteer soldiers.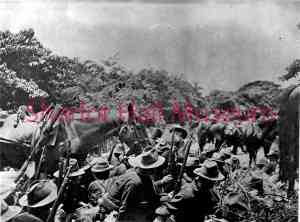 The Arizona volunteers mustered at Fort Whipple and left Prescott for San Antonio, Texas. There they trained; were issued uniforms, weapons, horses and equipment; and were christened "Rough Riders" by the newspapers. Arizonans comprised Troops A, B and C of the regiment.

On June 7 thirty-three Rough Rider officers and 578 enlisted men boarded the Yucatan at Tampa, Florida – destination Cuba. Because of a transport shortage, Troops C, H, I and M and fifteen men from each of the other troops remained in Tampa. The regiment's horses, much equipment and the troopers' revolvers were also left behind.

Like many officers of his era, Captain O'Neill refused to take cover from enemy fire, believing his example gave courage to his men. Legend claims that below Kettle Hill, when begged to get down, O'Neill replied, "Sergeant, the Spanish bullet is not molded that will kill me." An instant later, he was shot through the head. Joshua D. Carter (2nd Lieutenant, Troop A) describes the death of Buckey O'Neill on July 7, 1898: "Other officers would see their men under cover, and then take cover themselves, while Buckey would light a cigarette and walk around in a hail of bullets. It was inevitable."

O'Neill is buried at Arlington National Cemetery.

Mr. Roosevelt is coming to the Sharlot Hall Museum on March 4—he will be presenting a special salute to Buckey O'Neill and the Rough Riders as a fundraiser performance for the Sharlot Hall Museum. Tickets are available online at www.sharlothallmuseum.org, in person, or by phone at (928) 445-3122 ext. 0.

"Days Past" is a collaborative project of the Sharlot Hall Museum and the Prescott Corral of Westerners International (www.prescottcorral.org). This and other Days Past articles are also available at www.archives.sharlothallmuseum.org/articles/days-past-articles/1 The public is encouraged to submit proposed articles and inquiries to dayspast@sharlothallmuseum.org Please contact SHM Research Center reference desk at 928-277-2003, or via email at archivesrequest@sharlothallmuseum.org for information or assistance with photo requests.