By Marjory J. Sente
By spring 1902, what is now known as Grand Canyon Village, located at the South Rim of the Canyon, was a beehive of activity. People came by stage, train and car. Martin Buggeln had bought the Bright Angel Hotel the prior summer and quickly cast his lot with the Santa Fe Railroad by providing services for its passengers during their visit to the South Rim. Until El Tovar opened in 1905, the Bright Angel Hotel and Camp were the primary accommodations for tourists.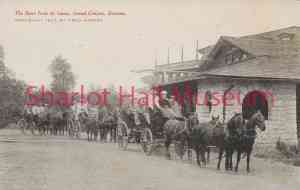 The first train arrived at the Canyon on September 17, 1901, with thirty passengers, a bundle of mail and three water cars. The trip from Williams took three hours (compared to a 48-hour stage ride), and the price was right. A train ticket cost $6.50; the stage, $20. Soon, daily service was established between Williams and the South Rim. By July 16, 1902, the train was carrying mail between the Canyon and Williams at least 6 times a week.

Located at the Bright Angel Hotel, the Grand Canyon Post Office was established on March 14, 1902, and opened for business on April 15, but was not supplied with stamps until April 21. Buggeln was the first postmaster.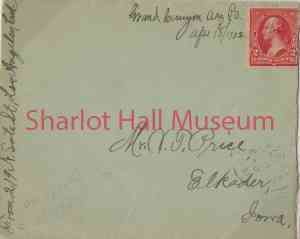 The earliest piece of mail recorded from this post office is dated April 18, 1902. Accepting the stamped letter, Buggeln used a pen to cancel the stamp and write "Grand Canyon Ariz PO Apr 18, 1902".

Nelly, the letter writer , described the Bright Angel facilities. "The hotel—which is a board affair, inside and out—part of it is log—is crowded, and a number of tents are occupied." She noted "It [the Canyon] certainly is grand. But the hotel accommodations are nothing to brag about." She talked about taking carriage rides along the rim and expecting to go part way down the trail on horseback.

Who was Nelly? The 1896 – 1904 Bright Angel Hotel guest registers in the Museum of Northern Arizona's archive might have provided the answer but the first register ends in November 1901, and the next begins on July 4, 1902, leaving a seven-month gap.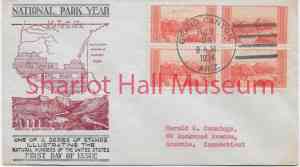 The addressee's information: Mr. V.T. Price, Elkader, Iowa, reveals the writer was Nelly Peery Price, wife of Valmah Tupelo Price. Mr. Price's father was editor of the History of Clayton County, Iowa, which includes copious information about his family. V. T. married Nelly, daughter of Judge Stephen Peery of San Diego, in 1894. Their second child, Herbert Peery Price (born in 1901), was nine months old when he and his mother visited the Grand Canyon. Nelly mentioned in her letter taking Peery's walker so he could trot around in it.

Nelly and Peery were in Phoenix before likely taking a train or trains to the Canyon. A letter from V.T. to Nelly while she was in Phoenix indicated that Peery had been ill. In March, she hosted a P.E.O. Sisterhood meeting, inviting all members in the city. An educated and accomplished woman, she was an 1890 graduate of the State University of Iowa and an early female graduate of its law school in 1893. But in 1902, she was completely unaware that her act of mailing a letter would become part of the Grand Canyon's long history.

This is only one of many vignettes you will hear about the Grand Canyon, stamps honoring it and history of its mail. Join us Saturday, November 2 at 2 p.m. for a free lecture by postal historian Marjory Sente on "Looking at the Grand Canyon with a Philatelic Eye" in the Lawler Building at the Sharlot Hall Museum.
"Days Past" is a collaborative project of the Sharlot Hall Museum and the Prescott Corral of Westerners International (www.prescottcorral.org). This and other Days Past articles are also available at https://www.sharlot.org/articles/days-past-articles.l. The public is encouraged to submit proposed articles and inquiries to dayspast@sharlothallmuseum.org. Please contact SHM Library & Archives reference desk at 928-445-3122 Ext. 2, or via email at archivesrequest@sharlothallmuseum.org for information or assistance with photo requests.