By Worcester P. Bong
In part 1 of this article, we learned about the Veterans Administration/Department of Veterans Affairs (VA) career of Paul N. Schmoll. Serving from October 1957 to November 1961, Schmoll was the eighth director appointed at the Whipple VA Center in Prescott. Part 2 of this article highlights Virgil I. McIntyre, the eleventh director to be appointed at the Whipple VA Center. McIntyre was director from January of 1972 to April of 1988.
Virgil Ira McIntyre was born on January 20, 1911 in Jonesboro, Tennessee to Charles B. and Maud (Miller) McIntyre. Virgil was one of eight children in the family, growing up in Gypsum, Kansas. He attended Kansas Wesleyan University in Salina. He was a member of Pi Sigma Upsilon and played on the university's football team. It was at Wesleyan that Virgil met his wife, Lillian Reinhardt. Lillian was a member of Pi Alpha Pi and studied English literature. In 1932 Virgil received his degree in mathematics. After college he taught classes at Solomon High School in Solomon, Kansas. He was also involved in coaching high school athletes.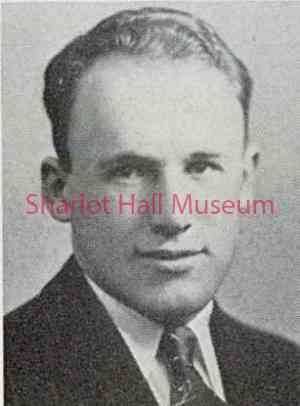 In 1940 Virgil registered for the U.S. military draft. During World War II, he served in the U.S. Navy from 1944 to 1946. As a Lieutenant, he specialized in signal communications and was assigned sea duty in the Atlantic. He later became an educational services officer at the San Diego Naval Hospital.
In 1946 McIntyre's VA career started at the Wichita VA Center in Wichita, Kansas, where he was a personnel officer until 1953. Promoted to assistant director, his career took him to VA Centers in Marion, Illinois; Portland, Oregon; and Sepulveda and Los Angeles, California. His promotion to director of the Whipple VA Center occurred in January 1972. The February 2, 1972 edition of the Prescott Courier reported that Virgil I. McIntyre arrived mid-January, replacing Walter R. Armstrong, Jr., who transferred to the VA Center in Jackson, Mississippi.
During McIntyre's tenure at the Whipple VA Center, he was instrumental in getting construction of major new buildings approved. These new buildings included an ambulatory care clinic, chapel, library, 60-bed nursing care unit and 200-bed domiciliary.
The only controversial issue during his time at Whipple occurred in July 1986. The VA's nationwide focus was to enlarge surgery units at the larger VA facilities while making smaller VA facilities such as Whipple into supportive facilities that focused on long-term and rehabilitative care. The plan was to close the surgery program at the Whipple VA. Adding to the problem was the loss of several staff surgeons and the VA's inability to recruit any new surgeons to their smaller facility. The July 18, 1986 edition of The Prescott Courier reported that several local surgeons pitched in to offer surgeries at the facility at a reduced capacity.
Active in the com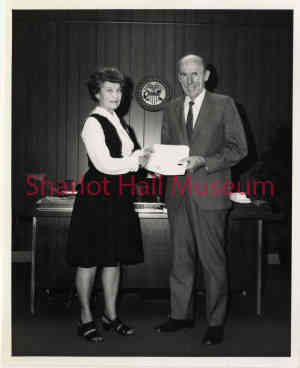 munity, Virgil was a Senior Olympics gold medalist, earning gold medals in high jump, long jump and the 200 meter event at senior competitions among Arizona's top senior athletes. After 16 years and 2 months in Prescott, he retired on April 1, 1988. To date, McIntyre is the longest serving director at the Whipple VA. His career was outlined in the March 20, 1988 edition of the Prescott Courier. In this article, Virgil noted he and his wife planned to retain Prescott as their "home base." The article also noted that his son, Dr. Don V. McIntyre, was senior pastor of Prescott's United Methodist Church.
On June 17, 2006, at age 95, Virgil Ira McIntyre passed away. He was preceded in death by his wife, son and two siblings. Virgil is laid to rest with his wife and their son at Heritage Memorial Park Cemetery in Dewey, Arizona.
"Days Past" is a collaborative project of the Sharlot Hall Museum and the Prescott Corral of Westerners International (www.prescottcorral.org). This and other Days Past articles are also available at www.archives.sharlothallmuseum.org/articles/days-past-articles/1 The public is encouraged to submit proposed articles and inquiries to dayspast@sharlothallmuseum.org Please contact SHM Research Center reference desk at 928-277-2003, or via email at archivesrequest@sharlothall
.