By Worcester P. Bong
Leadership change happens constantly. At the Department of Veterans Affairs Medical Center in Prescott, past directors have stayed three to five years on average. The shortest stint was 22 months, the longest 16 years, 2 months. Directors moved on and often retired elsewhere. However, two directors who moved away, Paul N. Schmoll and Virgil I. McIntyre, moved back to Prescott upon their retirement and were buried at local cemeteries.
Paul Norman Schmoll was born on June 19, 1917 in Dodge, North Dakota to Paul Benjamin and Vera (Gates) Schmoll. Paul's sister, Winifred, was born two years later. In 1938 Paul graduated from the University of North Dakota with a business administration degree. Later the Schmoll family moved to Minneapolis, Minnesota. Paul worked as an agent for Minneapolis Mutual Life Insurance Company and then as a budget analyst for Montgomery Ward. It was in Minneapolis that Paul met his wife, Adelaine, a medical secretary at the city Health Department.
In 1940 Paul registered for the U.S. military draft. During World War II, he served in the U.S. Navy as a Lieutenant junior grade and was stationed in the Pacific. After returning to Minneapolis at the war's end, Paul and his wife and their children (Steven, Barbara and Jaquelin) moved to Fargo, North Dakota later in 1946. It was at the Fargo VA Center where Paul's career began with the Veterans Administration (VA). His first position was as a registration officer and by 1955 he was promoted to assistant manager. Schmoll's next promo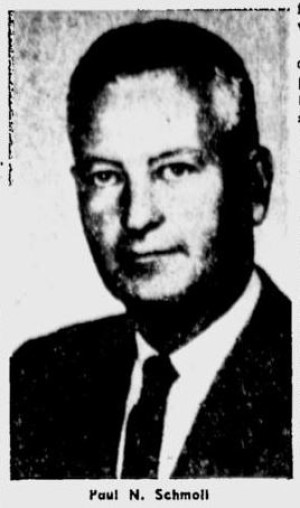 tion brought him to Prescott.
The October 11, 1957 edition of the Prescott Evening Courier reported that Paul N. Schmoll, assistant manager at the Fargo VA Center, had been appointed director of the Whipple VA Center in Prescott. Schmoll replaced Dr. Thomas O. Lake, the former director, who retired in August. Besides managing hospital operations, the Whipple director's community involvement included being president of the Northern Arizona Hospital Council, trustee-elect of the Arizona Hospital Association, vice president of the Prescott Rotary Club and director of the Prescott Chamber of Commerce. His children all attended Prescott High School.
During Schmoll's tenure at the Whipple VA Center, a controversial issue arose that was reported in the October 14, 1959 edition of the Arizona Republic. The article, "Nonveterans now admitted at Whipple VA Hospital," reported that treatment of nonveteran patients had begun in a precedent-shattering program arranged by the U.S. Public Health Service. The program authorized Whipple VA to accept public health patients, but only if the hospital had vacant beds and there were no eligible veterans waiting for admission. Schmoll noted the program would assist in the treatment and rehabilitation of Native Americans afflicted with tuberculosis.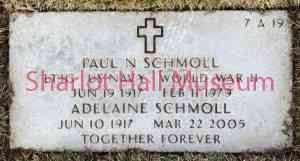 In November 1961, Paul Schmoll and his family moved to Washington, D.C. where he was promoted and named executive assistant of a national VA program. During his time in D.C. he continued his education and received a master's degree from George Washington University in 1965. In January 1968, Schmoll returned to the southwest to become director at the VA Hospital in Albuquerque, New Mexico.
In 1975 Paul retired and returned to Prescott with Adelaine. Still interested in hospital administration, Paul was a candidate for a Yavapai Community Hospital Board of Directors in 1976. He later withdrew, noting political concerns.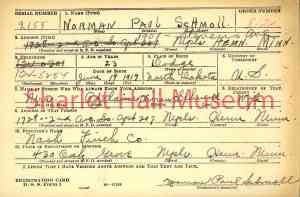 On February 11, 1979, Paul passed away at the Whipple VA Hospital. He was survived by his wife, their three children, his sister and seven grandchildren. Adelaine passed away in 2005. They are laid to rest together at the Prescott National Cemetery.

"Days Past" is a collaborative project of the Sharlot Hall Museum and the Prescott Corral of Westerners International (www.prescottcorral.org). This and other Days Past articles are also available at www.archives.sharlothallmuseum.org/articles/days-past-articles/1 The public is encouraged to submit proposed articles and inquiries to dayspast@sharlothallmuseum.org Please contact SHM Research Center reference desk at 928-277-2003, or via email at archivesrequest@sharlothallmuseum.org for information or assistance with photo requests.