By Robert Estrada
In 2017 during a quest to discover an indigenous family history, three separate tales coalesced into the story of an Apache woman known as Lulu Verde. Captured by the Army as a toddler in the 1870s, Lulu lived with Euro-Americans and married a white man in the 1880s.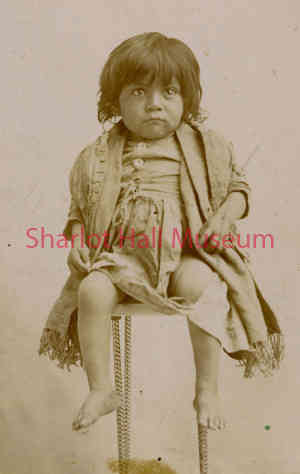 First mention of Lulu came from Mr. Vincent Randall, Director of the Yavapai-Apache Cultural Center at the Yavapai-Apache Nation, who relayed the legend of a family member who spent her life with whites following a massacre. The Camp Verde Journal of November 30, 1994 mentioned that the earliest Euro-American settlers in the Verde Valley adopted an Apache girl "as their daughter." National Park Historian Jack Beckman referred to her in his memoirs, recording that homesteaders Wales and Sarah Arnold raised a young Apache girl "as their beloved daughter." With the assistance of Sheila Stubler at Fort Verde State Park and later interviews, Lulu's descendants provided answers to many previously unanswered questions.

Western historiography argues that the long-standing practice of child slavery originated from pre-Colonial contact and continued during Spanish occupation and Mexican independence, resulting in many non-biological kinship relationships with Euro-American settlers. However, Lulu's story and relationships are representative of the infrequent occurrences of Native American children living with Anglo-Americans following adverse military actions against their people in the Arizona Territory.

To understand the complexities of Lulu's relationships in the late nineteenth century, it is necessary to consider multiple influences: the Yuane´ clan of the Tonto Apache, their interactions with the Army in central Arizona, Lulu's daily life with the Arnold family, her marriage to a Euro-American, the Howell Code's forbidding any white man from cohabitating with any persons of the Negro, Mulatto, Mongoloid, or Indian races, and the ethnic identities of her descendants.

According to Randall, Lulu's family belonged to a regional band of "Rim People," or Yuane´. When Lulu was captured by the Army, the clan may have begun their seasonal migration to the Mogollon Rim to minimize heat exposure, pursue game and trade. Lulu's summers would have been spent in wickiups on the Colorado Plateau near today's Stoneman Lake or Happy Jack, accessed through Rattlesnake Canyon to escape enemy forces. According to Randall, Lulu and other native children were never fully taught about their people's seasonal migrations.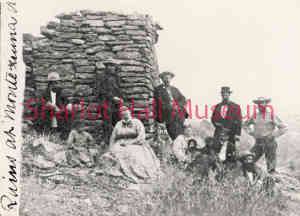 Lulu resided at Montezuma Well at two different times - as a young child while the Arnolds established their homestead at Beaver Creek and later with her husband, 'Link' McKesson. As a young girl, she was torn between the folks who captured her and her native relatives living nearby. The Arizona Miner indicates the Arnold farm was under constant attack by Tonto Apache raiding parties because they were squatting on a traditional Apacheria.

In 1956 an Arizona Republic column on "Arizona Women" revealed that "Wales Arnold begged her [Sarah Arnold] to take the child to the reservation and free herself of the stigma of caring for the enemy" by their neighbors.

Following the Indian Wars, Lulu's husband moved the family from Cienaga Creek on the Agua Fria to Beaver Creek in the Verde Valley. According to the Arizona Miner, Link attempted to dam Montezuma Well in the early 1890s to create a fish farm before moving the family to Kingman in 1892.

What was the story of Lulu Verde? What were the circumstances surrounding the capture of Lulu and her living with the Arnolds? Was Lulu an adopted child or something else? Why did Lulu and other native women fear being sent to the reservation? How did Lulu marry a Euro-American man when such unions were illegal? Did Lulu's children identify as Euro-American, Native-American or Mexican American?

Join Robert Estrada for a free lecture on "The Story of Lulu Verde" on Saturday, November 20, 2021 at 2 P.M. in the auditorium of Fred W. Veil Educational Center. Face coverings are encouraged but not required.

Seating is limited, so reservations are required. Call Admissions at 928-445-3122 Ext. 0 or RSVP online at: https://www.sharlothallmuseum.org/event/lecture-lulu-verde/

"Days Past" is a collaborative project of the Sharlot Hall Museum and the Prescott Corral of Westerners International (www.prescottcorral.org). This and other Days Past articles are also available at archives.sharlothallmuseum.org/articles/days-past-articles/1. The public is encouraged to submit proposed articles and inquiries to dayspast@sharlothallmuseum.org. Please contact SHM Research Center reference desk at 928-445-3122 Ext. 2, or via email at archivesrequest@sharlothallmuseum.org for information or assistance with photo requests.