By Shane Murphy
Today, John Hance is widely remembered as the Grand Canyon's famous storyteller. Even President Theodore Roosevelt called him the "greatest liar on earth." But he also built the first road to the Grand Canyon where he constructed the first trail to the river, becoming the Canyon's first permanent white resident and tourism entrepreneur. Not so well known today, but certainly as industrious, energetic and witty, John's 11-years-younger half-brother George Washington Hance was the acknowledged "informal mayor" of Camp Verde for nearly half a century. Both were the patriarchs of their respective communities.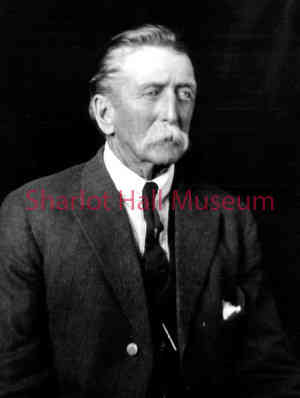 They came from deepest Appalachia, near Dandridge, Tennessee. John was born in 1837, George in 1848. They emigrated to Arizona after the Civil War when John fought for the Confederacy and George ran supplies for the Union. They arrived in Prescott (population 450) in December 1868 after forming an immigrant wagon train in Albuquerque. The party traveled at night for protection against Indian attacks through cold, windy, snowbound conditions which slowed the group's progress. Thanksgiving was celebrated at the base of Flagstaff's Mars Hill after John, a skilled marksman, killed 11 turkeys with as many bullets.
Purchasing 640 acres on lower Granite Creek north of Point of Rocks, the Hance brothers had 300 acres of corn, 50 acres of millet and 20 acres of beans under cultivation by the following spring. But a drought intervened the following year, so John sold his share to move 60 miles southeast and homestead land that eventually became Orme Ranch. George subsequently lost his barn and wagons in a fire, elsewhere suffered a broken leg and ended-up sitting behind the counter at C. P. Head's Camp Verde sutler store. It was the only mercantile outlet, bank, liquor store and trade center within 50 miles. George entered the livestock business with his employer, "Boss" Head, and also bought John's place. John moved to Camp Verde on 160 acres by the river. Today the area is called East Quarterhorse Lane.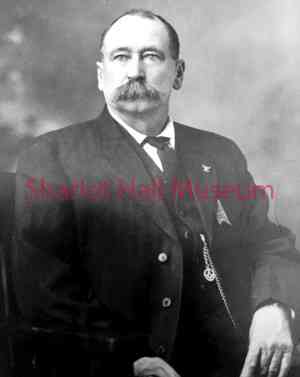 George ran large herds of sheep and cattle. John drove wagons, freighting supplies throughout the territory. Both bid and won sizeable military contracts for wood, hay and grain and were on top of the market for a couple of years before the drastic reduction in military activity in the early 1880's ended their enterprises. George turned to supplying beef and mutton to the civilian market and prospered. John, however, lived off teamster wages that forced him out of business and into bankruptcy. By 1882, he had departed the Verde for the Grand Canyon, and by 1884, he operated the only tourist camp on the rim.
George, also a storyteller of distinction, was involved in all manner of civic activity. He officiated at funerals and was the area's first civilian postmaster. He was also a notary public, school board secretary, majordomo, census enumerator, road supervisor and longtime Justice of the Peace at his ranch, the Cienega, today the intersection of I-17 and SR 169. He often reminisced to newspapers and corresponded with friends like Sharlot Hall about the early days in Yavapai County, and what he wrote is now closely studied by Verde historians.
John never married and left only a handful of written records. George kept voluminous notes and married three times. The mother of his four children died early of tuberculosis, his second wife tried to kill him and his third wife got mad and burned most of his papers in a fire. What remains of his writings are found at the Camp Verde Historical Society and in the Sharlot Hall Museum Archives.
Join us for a free lecture on "The Hance Brothers in Yavapai County, 1868-1930" by Shane Murphy on Saturday, July 27th at 2 PM in the West Gallery of the Lawler Building.
"Days Past" is a collaborative project of the Sharlot Hall Museum and the Prescott Corral of Westerners International (www.prescottcorral.org). This and other Days Past articles are also available at https://sharlothallmuseum.org/articles/days-past-articles.l. The public is encouraged to submit proposed articles and inquiries to dayspast@sharlothallmuseum.org. Please contact SHM Library & Archives reference desk at 928-445-3122 Ext. 2, or via email at archivesrequest@sharlothallmuseum.org for information or assistance with photo requests.