By Marjory J. Sente
Traveling to the Arizona Territory in early 1864 in a two-wheeled cart pulled by oxen, fifteen-year-old Jane Oswald had no idea that a decade later she would make history. Jane, whose given name was Mary Jane Oswald, came to Prescott with her mother Elizabeth, brother George, step-father George Jackson and his son Stephen.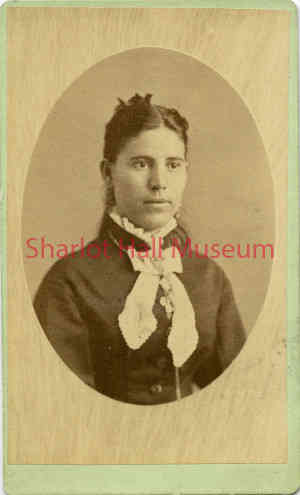 According to a profile of Mary Jane Oswald by Ethel Maddock Clark, her stepfather George was described as an excellent carpenter, "Jackson built the first dwelling house in Prescott. It was of whip-sawed, unplaned lumber and faced west on what is now Granite Street. The house contained only two rooms, but according to Jane, 'There was seven houses in Prescott at the time, but ours was the only residence.'"

The Jacksons ran a hotel or boarding house in Prescott for a brief time, but the family soon moved 30 miles out of town to Walnut Grove, where they established a ranch. According to the 1870 U.S. census, Walnut Grove had a population of 40 (33 of which were males), 6 families, and 19 buildings. The residents' chief complaint was that they had no mail facilities. If the situation did not change, they said, they would have to stop subscribing to newspapers because they received them less than once a month. In August 1870, the situation was rectified when a mail route was established between Prescott and Walnut Grove three times a week.

It would take another four years, however, for Walnut Grove to get a post office. On June 24, 1874, the Walnut Grove post office was established with Jane Oswald appointed postmistress, the first woman appointed to this position in the Arizona Territory. Visiting Walnut Grove a year later, the editor of the Arizona Weekly Miner reported in the July 9, 1875 issue that he stopped by the Jackson ranch, which was also the home of the Walnut Grove post office. He stated that "Miss M.J. Oswald never tires in her polite attentions to the patrons of the office. A better postmaster or postmistress could not be found in Arizona; no grumbling or growling in the Walnut Grove, P.O.; everything is done in such pleasant demeanor that one feels that he had not been an intruder, but a welcome guest."

The postmaster in a small fourth-class post office such as Walnut Grove did not receive a salary, but compensation was paid based on the rental of post office boxes and a commission on other postal revenues, such as the sale of stamps. In 1875, Oswald earned $3.88 while the compensation for the Prescott postmaster totaled $1200. Oswald was the postmistress until January 5, 1877 when John M. Bennett was appointed.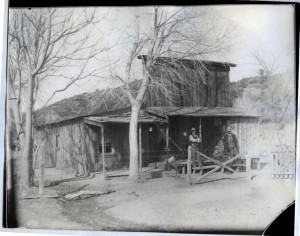 In the interim, on June 20, 1876, she married Orlando Allen of Prescott. The wedding was held at Walnut Grove with her stepfather George Jackson officiating. The newlyweds moved into a new home that Allen had built on Carleton near Marina on a portion of his land called "Las Flores." The house reportedly had fireplaces instead of stoves in the sitting rooms and was considered to be quite elegant. Jane and Lily Frémont were good friends and visited one another frequently, according to Frémont's diary.

The Allens had two daughters—Mabel and Bertha. Leaving Prescott in 1883, they established a ranch near Walnut Grove and, about 1890, moved to the Salt River Valley. In 1910, they moved from Arizona to southern California.

Orlando passed away in Santa Monica ten years later. By 1930, Jane had moved back to Glendale, AZ. According to the 1930 Census, a grandson, George Van Fleet, was living with her. Jane died on New Year's Day, 1939, in Glendale and was buried in the Glendale Memorial Park.

"Days Past" is a collaborative project of the Sharlot Hall Museum and the Prescott Corral of Westerners International (www.prescottcorral.org). This and other Days Past articles are also available at https://www.sharlot.org/articles/days-past-articles.l. The public is encouraged to submit proposed articles and inquiries to dayspast@sharlothallmuseum.org. Please contact SHM Research Center reference desk at 928-445-3122 Ext. 2, or via email at archivesrequest@sharlothallmuseum.org for information or assistance with photo requests.