By Worcester P. Bong
In February 1920, Whipple Barracks in Prescott was loaned by the U.S. War Department to the U.S. Public Health Service for hospital purposes, mainly for tuberculosis (TB) patients. With approximately 350 patients and 100 employees, a considerable number of people traveled to and from town.

Two entrepreneurs, A.A. Mathes and John "Jack" F. Sills, Jr., each independently made proposals to the Arizona Corporation Commission (ACC) for a Whipple Barracks and Prescott Stage Line, later known as the Whipple Stage Line. This service would provide transportation between Prescott and Whipple Barracks. At the time, taxis were stationed in Prescott, had a variety of rates, and passengers at the barracks traveling to Prescott needed to telephone and wait for a taxi.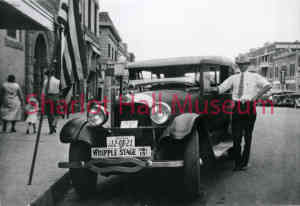 Mathes worked as a government employee at the barracks; Sills was a Marine and recuperating TB patient. Both stated in their applications there was insufficient business for two lines. The ACC reviewed both applications and decided on June 8, 1920 to award the service to Sills. According to the Commission report, the decision was influenced by the fact that Sills lost his health in military service and had to remain in the area to fully regain his health, or at least prevent reoccurrence of his TB.

The Whipple Stage Line focused on providing transportation between Whipple Barracks and downtown Prescott, a three-mile round trip. The bus-type vehicles used a 14-passenger bus body on a 1921 REO truck chassis. The buses were fully enclosed with isinglass (mica) windows raised and lowered with straps. The fare was 35 cents round trip and 25 cents ($3.23 in today's dollars) one way.

According to Paul S. Elms in the February 1987 The Fare Box newsletter, the Whipple Hospital Director also wanted to start a bus line and offer free rides to "put Sills out of business." Government funds were used to purchase a used bus. Fortunately for Whipple Stage Line, the government's bus made only one trip, failing to climb the hill in front of the Elks Theater because the chain drive malfunctioned. The Director was transferred and Whipple Stage Line continued.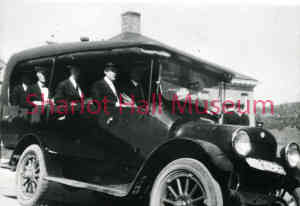 In 1921, the ACC reviewed the fares of the stage line and taxis due to community concerns. The February 1, 1922 Weekly Journal-Miner reported the ACC ruled to reduce the stage line rates from 35 cents to 25 cents for round trips and from 25 cents to 15 cents for one way. Taxis traveling to the barracks, however, were required by the ACC to charge 40 % more, giving the stage line freedom from competition. The schedule of the Whipple Stage Line in the January 24, 1931 Prescott Evening Courier shows the frequency of trips and low fares, which made it popular with customers.

Sills operated Whipple Stage Line until 1975 when Jack L. Silvernale bought it. The transportation service that "Jack" Sills gave Prescott and soldiers of Whipple Barracks lasted 55 years. Sills passed away on February 17, 1982 and is buried alongside his wife at Mountain View Cemetery.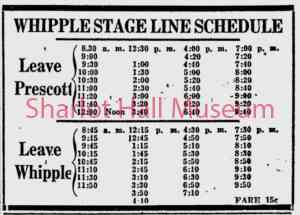 Jack Silvernale didn't want the Whipple Stage Line shut down, so he made it available for seniors and those without transportation through a local Citi Bus service. The name was changed to Prescott Transit Authority (PTA), and for decades, the privately funded Citi Bus carried Prescott passengers for nearly 30,000 rides a year. In 2018, the PTA decided it couldn't continue funding the service on its own and the City of Prescott wasn't able to help pay for it.

Steve Silvernale, Jack's son and PTA CEO stated "My father was adamant that the transportation service continue, in lieu of being financially prudent. He had a passion for this service and worked at it up until his passing in March 2011. It was his legacy."

The Whipple Stage Line and Citi Bus provided public transit for Prescott and Fort Whipple for 96 years.
"Days Past" is a collaborative project of the Sharlot Hall Museum and the Prescott Corral of Westerners International (www.prescottcorral.org). This and other Days Past articles are also available at https://www.sharlot.org/articles/days-past-articles.l. The public is encouraged to submit proposed articles and inquiries to dayspast@sharlothallmuseum.org. Please contact SHM Research Center reference desk at 928-445-3122 Ext. 2, or via email at archivesrequest@sharlothallmuseum.org for information or assistance with photo requests.