By Bob Baker
Public travel in the late 1800's to Prescott was not for the faint-hearted, nor was it inexpensive. Passengers endured night and day travel with very short stops, in the freezing cold or sweltering heat, with constant dust and not infrequent rain. At times, passengers had to leave the coach and walk when traveling up steep grades, crossing washes or when the coach got bogged down in mud or sand.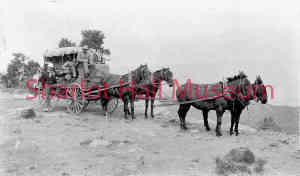 In September 1869, James Grant established the Arizona Stage Company and began service from La Paz, Arizona, on the Colorado River, through Wickenburg to Prescott. The Arizona Stage Company advertised semi-weekly trips on this route in the January 16, 1869 The Weekly Miner. In the November 20th edition of the paper, their advertisement mentioned that the run was made by a four-horse passenger stage. In 1873, the Arizona Stage Company's published fare from Prescott to Ehrenburg, the last stage station before crossing the Colorado River into California, was $45, equivalent to about $937 in today's currency. The stage trip from Prescott to San Bernardino, California cost $75, about $1562 in today's money, and reportedly took 2 1/2 days. The stage ran day and night, stopping only to change or water the horses. Stage stations were about 20-25 miles apart. Some of the stations along the original line included Prescott, American Ranch, Iron Springs, Skull Valley, Kirkland Valley, Peeples Valley, Antelope and Wickenburg. One route basically followed what is now Iron Springs Road to Skull Valley south on State Highway 89 to Wickenburg.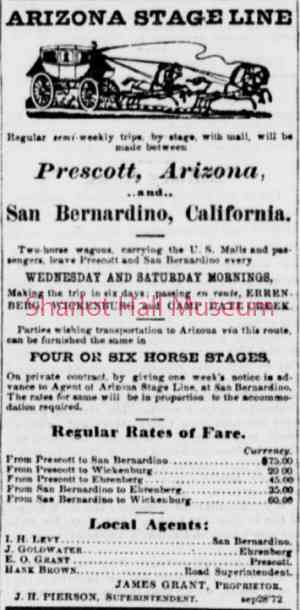 The celerity or "mud "wagon was used most often on the Prescott route as these wagons were built to carry freight and passengers and were designed for speed and travel over very rough roads. However, on October 2,1869, The Weekly Miner reported that Mr. James Grant arrived in Prescott aboard a brand-new Concord Coach. The "Concord Stage" was the top of the line and built for passenger travel. Six horses or mules were needed to pull the Coach that was cradled in leather straps, causing a pitching motion -- thus the nickname "Pitching Betsy". The coach could carry a total of 21 persons; three people in the stage driver's (whip's) box, the whip, the armed messenger and one passenger at the whip's discretion; nine passengers inside and nine passengers known as "hangers on" on the top.

Passengers and whips alike were subject to Indian attacks and highwaymen at any time during their journey. While there were very few Indian attacks on stagecoaches, one of the most infamous attacks occurred on the La Paz-Wickenburg-Prescott line. The Wickenburg Massacre occurred on November 5, 1871. The westbound coach was attacked six miles outside of Wickenburg on the La Paz Road. Five passengers and the whip were killed. Two passengers escaped to report the attack. Based on the two survivors' statements and evidence at the scene, Indians from the Date Creek Reservation were initially believed to be responsible, although this is now a debatable view.

Unfortunately, stage robberies were far more common. On May 1, 1885, The Weekly Miner reported "Stage robbing, and horse stealing are the most prominent business enterprises in vogue at present in Northern Arizona." A typical stage robbery was described in The Weekly Arizona Miner, Oct 11, 1878. On October 7 " stage robbed by two road agents, eight miles south of Date Creek, ... Three bars of bullion and sixty dollars taken. Passenger robbed of his money and watch." Seldom were the whips, armed express messengers or passengers shot or killed during such robberies. Most stage robbers (highwaymen) were not aggressively pursued unless the operators or passengers were seriously injured or killed or a large reward was offered.

"Days Past" is a collaborative project of the Sharlot Hall Museum and the Prescott Corral of Westerners International (www.prescottcorral.org). This and other Days Past articles are also available at https://www.sharlot.org/articles/days-past-articles.l. The public is encouraged to submit proposed articles and inquiries to dayspast@sharlothallmuseum.org. Please contact SHM Research Center reference desk at 928-445-3122 Ext. 2, or via email at archivesrequest@sharlothallmuseum.org for information or assistance with photo requests.