By Bob Baker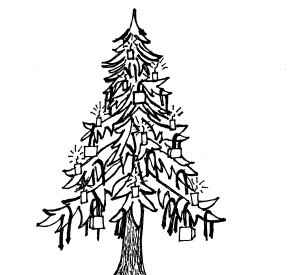 Jul Nanning (J.N.) Rodenburg and his wife Johanna, both German immigrants, arrived in Prescott in 1870. They brought many of their German customs and traditions with them. One of these traditions included decorating a fir tree during the Christmas celebration.

In 1908 Orrick Jackson wrote a book in which he credits J.N. Rodenburg with "providing the first Christmas tree to be erected in Arizona." While no date is given for the event, J.N. Rodenburg first resided in Prescott in 1870. Jackson's claim differs from historical records stating that Margaret McCormick, the wife of Governor Richard McCormick enjoyed "dressing the tree" during the Christmas Session in 1865-1866. Thus, she should have been credited with erecting the first Christmas Tree in Prescott.

Many of Rodenburg's fellow frontiersmen wondered how to celebrate the holiday—no stores at this time carried candy, toys or Christmas decorations. Undaunted, Rodenburg, along with six fellow townsmen, went into the forest and cut down a "beautiful fir tree." "The tree was erected in Rodenburg's house." They asked the public to donate toys and decorations. Men crafted crude toys and women donated cloth for ribbons to decorate the tree. Candles were obtained, cut in half and tied to the tree with twine. Three kinds of Black Jack molasses were molded, cut in strips and placed in paper bags to hang on the tree. Thirteen children participated in the Christmas celebration.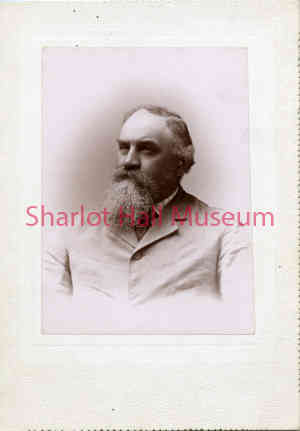 Jackson further wrote that "Mr. Rodenburg says that electric bulbs may glow many colors from Christmas trees of present day, trained voices may chant melodies, diamonds and gilt edged presents may ornate the garments, children may devour the many colored sweets by the ton, but the old blackjack was just as good, the old tree was just as handsome, and above it all there was a genuine and devoted spirit around the Christmas tree of long ago that can not be duplicated."

In December 1876, The Weekly Arizona Miner proclaimed Rodenburg the "King when it comes to getting up a Christmas whether public or private." The newspaper went on to describe how he set "a well loaded Christmas Tree in his own private parlor where a goodly number of the friends of himself and family enjoyed a real old fashion German festival."

When Rodenburg arrived, he was already an accomplished brewmaster. From 1872 to 1876, he partnered with Gray Foster in operating the Arizona Brewery. After that, he was the sole owner for 11 more years. The Arizona Territory Census shows Jul N. Rodenburg residing with his wife Johanna and son Julius in Prescott on June 7, 1880.

During his forty-three years in Prescott, he served the community in a variety of ways. In addition to operating the breweries, he served on two grand juries, as a Yavapai County Supervisor and a school trustee. He also contributed to many public and charitable organizations; the Prescott Public School and The Prescott Literary and Dramatic Association are but a few.

In The Weekly Journal Miner April 23, 1913, his obituary read, "This pioneer came to Prescott in 1870 and took charge of the city's first brewery. (…) He later became identified with real estate and mining. He was a useful citizen and had a host of friends. To his credit it must be said that he was among the first in Arizona to lend a helping hand and assist with his money in the creation of the public schools in Prescott."

On the back of an 1895 photograph of J.N. Rodenburg, it was noted that he "took charge of the first brewery in Prescott" and "went to the mountains and brought back a beautiful Christmas tree for the Sunday School Christmas Program."

"Days Past" is a collaborative project of the Sharlot Hall Museum and the Prescott Corral of Westerners International (www.prescottcorral.org). This and other Days Past articles are also available at archives.sharlothallmuseum.org/articles/days-past-articles/1 The public is encouraged to submit proposed articles and inquiries to dayspast@sharlothallmuseum.org Please contact SHM Research Center reference desk at 928-277-2003, or via email at archivesrequest@sharlothallmuseum.org for information or assistance with photo requests.