By Brad Courtney
Anyone who has lived in Arizona knows that eventually two topics are bound to come up: the heat and drought. In the early summer of 1900, these two subjects were more than just talk. When summer rolls into the central highlands and forests of Arizona, dry spells come with it. In 1900, several years of drought preceded it. Water was obviously needed for drinking, plumbing, irrigation and watering plants and animals. It was also needed to extinguish fires if they occurred. There was not a surplus of this precious element available.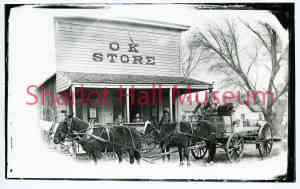 So desperate was the concern about this drought that Prescott's mayor pro tem, Fred Brecht, (Mayor John Dougherty was out of town, "as usual" one pioneer woman averred), issued an emergency edict. It was a "notice to [the] water consumers" of Prescott on May 21, 1900. It was published up until July 14 and even a few days after. A ban was enacted regarding watering of lawns and gardens. Realizing there was a still a need for this, an exception was made in the evening hours between seven and eight o'clock. The chief of police, Steve Prince, was instructed to not only inform every household of this measure, but to report individuals violating the injunction. The punishment for any violations was the loss of water privileges altogether.
In 1900, brick structures were more common in Prescott and along Whiskey Row than in the past. Yet wood was still the most prominent component for most structures with their false fronts. There was an odd combination of flammable and non-flammable materials.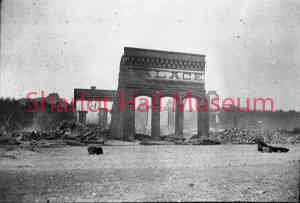 But wood was only part of the problem in the late spring and early summer of 1900.
The middle of June found the mayor, John Dougherty, back in town. Early on, he visited his brother, Joe, who owned and operated the OK Grocery Store located on the northwest corner of Gurley and Granite streets. During this visit, an argument between the brothers was overheard by an employee, Bert Lee.
Joe was not pleased that his mayor/brother and the Prescott City Council seemed more concerned about the town's physical appearance than its physical safety. Ironically, an unusually wet early winter (followed by a completely dry middle and late winter, and spring) had left the streets of Prescott in rutted condition. A decision had been made by the mayor and the city council to spend available funds to grade the streets rather than finding a way to increase Prescott's water supply and delivery.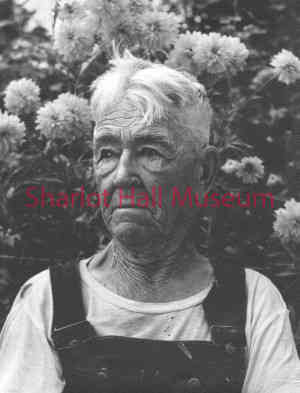 Joe argued, "Why the hell do you have to grade the streets right now? If you're short of money, what you got ought to do is deepen those wells or dig new ones. What if we have a fire—how'd you stop it?" Both could not have realized how prophetic those words would prove a month later. The mayor fired back that there was enough water to handle whatever problems may arise and besides, the people of Prescott wanted those streets graded before anything else.
The grocery man was incredulous. He pointed at Lee and shouted "Ask Bert here. He'll tell you there isn't enough water to put out a chicken coop if it was on fire." Indeed, water was at a premium. Surely, Prescottonians were aware that if a fire were to break out now, it would be extremely difficult to extinguish.
Of course, we now know that Joe Dougherty was proven correct during the evening of July 14, 1900. To hear more about Prescott's Great Fire, including details not known to the general public, come listen to Whiskey Row historian Brad Courtney during the Western History Symposium.
Brad Courtney is a local author and historian. This article is a preview of a presentation he will make at the sixteenth Annual Western History Symposium that will be held at the Prescott Centennial Center on August 3rd. The Symposium is co-sponsored by the Sharlot Hall Museum and the Prescott Corral and is open to the public free of charge. For more details, call the Museum at (928) 445-3122 or visit the sponsors' websites at www.sharlothallmuseum.org and www.prescottcorral.org.
"Days Past" is a collaborative project of the Sharlot Hall Museum and the Prescott Corral of Westerners International (www.prescottcorral.org). This and other Days Past articles are also available at https://sharlothallmuseum.org/articles/days-past-articles.l. The public is encouraged to submit proposed articles and inquiries to dayspast@sharlothallmuseum.org. Please contact SHM Library & Archives reference desk at 928-277-2003, or via email at archivesrequest@sharlothallmuseum.org for information or assistance with photo requests.