By Eric Jacobson
On Dec. 3, 1853, Moses Hazeltine Sherman was born in Bennington County, Vermont. Growing up in Vermont and New York, at an early age Sherman decided to become a schoolteacher like his father. After obtaining a teaching certificate and gaining experience in New York and Wisconsin, he contracted tuberculosis (TB). Standard treatment for TB at the time was relocation to a warmer climate; so, Sherman accepted a teaching position in Prescott in 1874.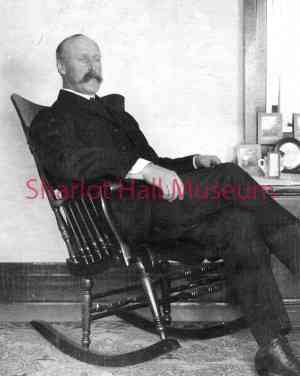 Built in 1868 or 1869, a log cabin at Granite and Carleton streets served as one of Prescott's first two schools. The Prescott School District Board of Trustees, organized in 1871, called for a bond election in 1876 to build a larger school. Moses Sherman's energetic efforts publicizing the need for a new school helped the bond issue succeed.

After passage of the bond issue, construction costs for the proposed school reached nearly $12,000. When the project was completed and the building furnished, total expense exceeded $17,000 (nearly half a million in 2020 dollars). Built on Gurley Street two blocks east of the Courthouse, the brick school housed different rooms for each grade, the first Arizona school to do so. Classrooms were on the first floor and offices for the territorial government, including the governor, on the second. Sherman had a 500 lb. school bell shipped from Baltimore at his own expense. The new school was named the Prescott Free Academy and a second teacher, Moses' sister Lucy, was hired.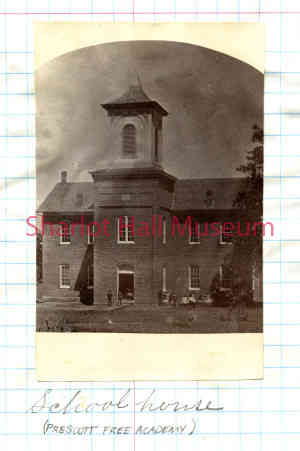 Arizona Territorial Governor Anson P.K. Safford picked Sherman as Arizona's correspondent to the 1876 Philadelphia World's Fair. Sherman was to write reports about the fair for local readers. After the fair, Moses and Lucy traveled to the west coast by steamer via the Isthmus of Panama. Four hundred miles from land, an explosion wrecked the ship. After drifting three days, passengers and crew were rescued by a passing freighter, and the pair were able to reach Los Angeles and eventually Prescott.

In June 1878, President Rutherford Hayes appointed John C. Frémont Governor of Arizona Territory, based in Prescott. Frémont was well known as an explorer, military officer, and anti-slavery candidate for President in 1856. Governor Frémont visited the classrooms at the Prescott Free Academy frequently, and his wife, Jessie Benton Frémont, taught history there.

Governor Frémont was so impressed with Sherman he appointed him Superintendent of Public Instruction for the territory in 1879. Later, Sherman was elected to the same position, the only Republican elected to public office during the 1880s, serving as Superintendent until 1883. Moses and Lucy remained in Prescott until early 1883.

He was also appointed Adjutant General of Arizona by Governor Frederick Tritle in 1883, supervising the state militia. Afterward, many Arizonians called Sherman by his honorary title, "General".

In addition to education, Sherman pursued a business career in mining, real estate, and banking. By 1883, Sherman was co-founder and president of Valley National Bank in Phoenix. When the territorial capital moved to Phoenix in 1899, he donated land for the capital building. He also developed a street railway in Phoenix.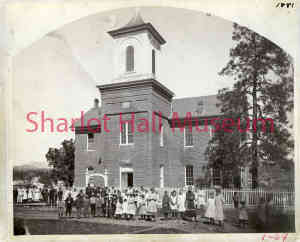 In 1885, while in Arizona, Sherman married Harriet Emily Pratt, daughter of Robert H. Pratt, a successful businessman employed by the Central Pacific Railway of San Francisco. The couple had two daughters, Hazeltine and Lucy; Moses also adopted Harriet's boy Robert from an earlier marriage.

In California in 1910, with his friend Harry Chandler, manager of the LA Times, and others, Sherman purchased 47,500 acres in the San Fernando Valley for $2.5 million ($68 million in 2020). Over the next decade, three new communities were created: Van Nuys, Canoga Park and Reseda. Sherman Oaks is also named after him.

On September 9, 1932, "The General," Moses Hazeltine Sherman, died at 78 after a long illness.

"Days Past" is a collaborative project of the Sharlot Hall Museum and the Prescott Corral of Westerners International (www.prescottcorral.org). This and other Days Past articles are also available at https://www.sharlot.org/articles/days-past-articles.l. The public is encouraged to submit proposed articles and inquiries to dayspast@sharlothallmuseum.org. Please contact SHM Research Center reference desk at 928-445-3122 Ext. 2, or via email at archivesrequest@sharlothallmuseum.org for information or assistance with photo requests.