By Mick Woodcock
In 1918, the war raging in Europe was not the only place to see the death of a Prescott man, when Robert J. Miller was shot to death by Harry Earl "Bud" Stephens at Oscar W. Bruchman's store in Prescott on April 2, 1918. This was the conclusion of the coroner's jury summoned by Yavapai County coroner Charles H. McLane.

While evidence for the murder was fairly clear, the coroner's jury took almost a week gathering testimony to determine what prompted the shooting. Eight individuals were examined under oath about circumstances leading to Miller's death. From this the jury decided, "That the cause of his death was from pistol wounds, caused and fired by one Harry Earl Stephens with homicidal intent, said pistol wounds causing his death, and said killing being aided and abetted by one Joseph H. Stephens."

Joe Stephens was Bud's father and put his son up to the killing. The apparent reason concerned Joe's wife. Miller worked on Stephens' ranch at one time but quit because of profane and rough language used by the outfit. At the time of the shooting, he was working at another ranch, although he told a friend he was considering returning to Boise, Idaho, where he previously lived.

Bud Stephens went on trial in Yavapai County court on July 9, 1918, but the trial was delayed due to the court's inability to find the required number of jurors. Once it resumed, some interesting testimony made the front page of the July 17, 1918 Weekly Journal Miner. Apparently, Mrs. Stephens was considering leaving her husband, and she testified Miller had suggested eloping. Joe Stephens believed that was true.

Sheriff Joe Young's testimony indicated he thought Miller might be in danger from Joe and Bud Stephens and tried to keep him away from them. Miller, insisting he had done nothing wrong, didn't take the Sheriff's advice. Out to buy a new suit to attend a dance, his poor judgment caught up with him.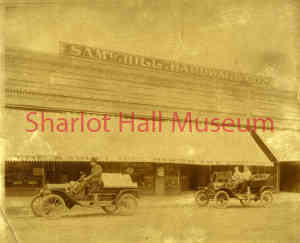 Joe and Bud Stephens stopped at Sam Hill's Hardware store and purchased a Colt revolver and a box of ammunition. They then drove to Bruchman's store on Cortez Street . Witnesses inside and outside the store testified Bud went inside as Miller was coming out. Bud pulled out the revolver, emptied it into Miller standing less than three feet away, emptied the spent shells, loaded one more round and fired another shot into the body on the floor.

Joe Stephens was reportedly outside, coaching his son on what to do. They both went to the Sheriff's office and turned themselves in. Bud was tried and convicted to life in prison without parole, and his father's trial was scheduled for August 6, 1918.

Being a murder case, there was an automatic appeal to the State Supreme Court. In their review, the justices found several trial irregularities and ordered that Bud receive a new trial. He was automatically eligible to be released on bond set at $50,000.

Bud's attorney, arguing it wouldn't be possible to get a fair trial in Yavapai County, successfully had it moved to Flagstaff in Coconino County. The trial started June 23, 1919. Attorneys from Los Angeles were hired to help defend Bud. They called expert witnesses, one of whom testified about Bud's sanity at the time of the shooting.

After an eight-day trial, the jury found Bud not guilty. The newspaper suspected the case against his father Joe would be dropped, as it had been proved the shooting wasn't murder. This turned out to be the case, as there is no further mention of legal action against Joe. You cannot be an accessory to murder if there is no murder.

"Days Past" is a collaborative project of the Sharlot Hall Museum and the Prescott Corral of Westerners International (www.prescottcorral.org). This and other Days Past articles are also available at https://www.sharlot.org/articles/days-past-articles.l. The public is encouraged to submit proposed articles and inquiries to dayspast@sharlothallmuseum.org. Please contact SHM Library & Archives reference desk at 928-445-3122 Ext. 2, or via email at archivesrequest@sharlothallmuseum.org for information or assistance with photo requests.