By Bob Baker
Hoomothya was a Kewevkapaya (Southeastern Yavapai) Indian child captured by the US Army 5th Cavalry before the Battle of Salt River Cave (Skeleton Cave Massacre). He witnessed the massacre and saw the bodies of his family members. Capt. James Burns, who led the attack, took responsibility for Hoomothya, renaming him Mike Burns.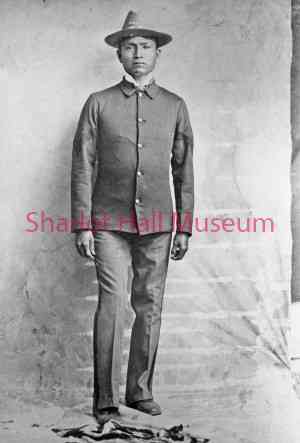 Mike spent his youth traveling with the Army in the Arizona Territory. In September 1880, the Army sent him to Carlisle Indian School in Carlisle, PA after which he attended Highland University in Kansas for one year. In July 1885, he joined the Army for six months as a scout. After a short break, he rejoined in June 1887, serving until December 1888. In 1890 he was hired as an issuing clerk at the San Carlos Reservation for four years. He then moved back to the Verde Valley. In 1901 he moved near Mayer where he worked as a farm hand, wood cutter and cattle helper for the next 10 years.

On February 11, 1902, the Phoenix Arizona Republican Newspaper recognized his educational achievements, stating that "Mike Burns, the educated Apache is in town. He came down from his home in Yavapai County near Mayer ….Mike Burns is probably the best educated Apache of mature age now living." On September 26, 1906, the Prescott Weekly Journal-Miner reported that Mike Burns, an "Apache Indian," had made several unsuccessful attempts to become a citizen. In an interview, Mike stated "During the past two years I have made three or four ecorts (sic) to become a Citizen of the United States, but have so far not succeeded."

In 1884 the U.S. Supreme Court had ruled that an Indian "... born in the United States was not a citizen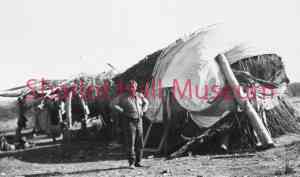 because he owed allegiance to his tribe when he was born rather than to the United States…" In 1887 Congress passed the General Allotment Act stating that "Indians who received land allotments or voluntarily took up residence away from their tribes were to be given Citizenship." However, the Act was unclear as to when an Indian could be given citizenship, as most of the land allotted for Indian tribes was held in a 25-year government trust.

In 1906 Congress passed the Burke Act which stated that citizenship of Indians who took land allotments would be withheld for 25 years or until the U.S. Secretary of the Interior determined that the Indian was "competent enough to handle his own affairs." The Secretary also had to confirm that the Indian had resided apart from his tribe and adopted "civilized habits." Once these criteria were met, the Act stated the Indian "… was declared a Citizen and was entitled to all the rights, privileges and immunities of citizenship."


On July 15, 1908, the Prescott Weekly-Journal Miner reported that Mike Burns, an "Apache Mohave Indian," was registered to vote in the upcoming election on July 14, 1908, claiming that "He is the First Indian in the Territory to take advantage of the Act of Congress of 1906, entitling educated Indians who have severed tribal relations to the full rights of citizenship."

In "All of My People Were Killed: The Memoir of Mike Burns (Hoomothya) A Captive Indian," Burns tells of writing a letter to his cousin, Carlos Montezuma, stating "I was up to Mayer on the election day. I voted for a friend of mine named Judge Ed. W. Wells of Prescott and the Republican for Governor…"

On May 28, 1934, he moved to the Fort McDowell Indian Reservation. He died on November 26, 1934. The handwritten memoirs of Hoomothya (Mike Burns) are held in trust by the Sharlot Hall Museum.

"Days Past" is a collaborative project of the Sharlot Hall Museum and the Prescott Corral of Westerners International (www.prescottcorral.org). This and other Days Past articles are also available at archives.sharlothallmuseum.org/articles/days-past-articles/1 The public is encouraged to submit proposed articles and inquiries to dayspast@sharlothallmuseum.org Please contact SHM Research Center reference desk at 928-277-2003, or via email at archivesrequest@sharlothallmuseum.org for information or assistance with photo requests.