By Nancy Burgess

This is a bit of the story of a rural western town and the men and women who put it on the map. Mayer, Arizona is a small, unincorporated town in Yavapai County. It is located near the center of the state in the foothills of the Bradshaw Mountains on Big Bug Creek.
Mayer was founded and named by Joseph (Joe) Mayer and his wife, Sarah (Sadie) Mayer, who purchased the Big Bug Stage Station on the Black Canyon Stage Line from Prescott to Phoenix in July of 1882 for $1,200 in gold. Sadie hid the gold in her darning basket for the move from Tip Top to Big Bug Station. Joe and Sadie Mayer then proceeded to found a town, where Joe was the major player until his death in 1909. Joe dreamed of making Mayer into the economic center of Yavapai County.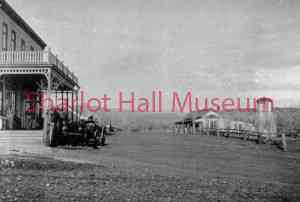 In her article "Joe Mayer and His Town" written for the Journal of Arizona History, Winifred Mayer Thorpe described her father's arrival at Big Bug Stage Station: At the end of an exceptionally warm day in the spring of 1881, (actually, 1882), a good-looking young rider with hazel eyes and black hair approached the Big Bug Stage Station on the banks of Big Bug Creek thirty-two miles southeast of Prescott. The place consisted only of a small shack, a corral and grove full of trees, but it was a welcome sight to Joe Mayer, who had cut across the mountains from the mining camp of Tip Top – a long, rough journey but shorter than the old Black Canyon stage route. His eyes rested on the surrounding mountains and the tiny stream of cool, clear water flowing between the thickly wooded banks. He told his family in later years that, at that moment, he knew he had come home.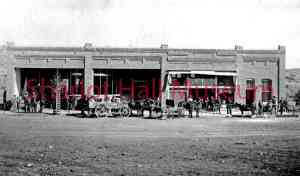 Joe Mayer had his hand in almost every business in the Mayer area in the early days and was a true 19th century entrepreneur who was constantly coming up with new and adventuresome business ideas. Many of his enterprises were successful, and made him a wealthy man in property, if not in cash. Some business ventures, such as his "cactus spine toothpicks" never took off. However, he grubstaked many hopeful miners with supplies and encouragement, helped to bring water and the Prescott & Eastern Railroad to Mayer, built the first hotel, the first business block, the first mercantile, built the 1902 school and established the post office. Joe's wife Sadie was the first postmistress, starting in 1884, and she continued in that capacity into the 20th century. Sadie was also known throughout the area for her skill in "doctoring" and was always willing to help anyone who was in need of medical assistance in an area where the nearest doctor was some 25 or more miles away.
The town of Mayer has retained its rural, small-town, western country flavor and many of its historic buildings. Industries, such as mining and sheep and cattle ranching have waned, and Highway 69 has bypassed the downtown, but Mayer is still "Mayer," much as it was decades ago.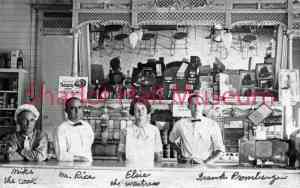 Even after Joe Mayer's death, the Mayer family, which included daughters Mary Belle (Mamie), Martha Gertrude (Martie),Winifred Lucille (Winnie) and son Wilbur Joseph (Burr), continued the family tradition of entrepreneurship and community service. There are also other stories and characters to tell about in the history of Mayer, and many families who settled in Mayer decades ago are still there – an inextricable part of the history of a place and time in central Arizona which lives on today.
To learn more, come listen to Nancy Burgess's lecture 8/19/2023 at 2 pm at the Sharlot Hall Museum in the Education Center Auditorium. Tickets are $15 or FREE for museum members. Seating is limited.
"Days Past" is a collaborative project of the Sharlot Hall Museum and the Prescott Corral of Westerners International (www.prescottcorral.org). This and other Days Past articles are also available at www.archives.sharlothallmuseum.org/articles/days-past-articles/1 The public is encouraged to submit proposed articles and inquiries to dayspast@sharlothallmuseum.org Please contact SHM Research Center reference desk at 928-277-2003, or via email at archivesrequest@sharlothallmuseum.org for information or assistance with photo requests.

.