By Marjory J. Sente
Jessica E. McDaniel Hunter was born about 1877 to Andersen and Katherine McDaniel in Texas. Little is known about her until 1913 when ads for Madame Hunter's business began appearing in the Prescott Weekly Journal Miner. Madame Hunter advertised herself as a beauty specialist and chiropodist (one who treats hands and feet), and a seller of bath salts. Her parlor, located at the Congress Hotel, was reachable by phone at 313. Not a doctor, she had "two diplomas from Chicago institutions for the practice of drugless treatment," according to the November 8, 1919, Phoenix Tribune. The newspaper, a member of the National Negro Press Association, kept Arizona's African-American community informed on local and national news.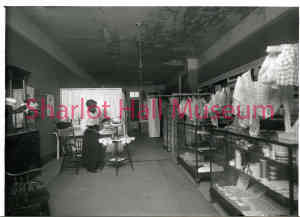 She quickly became recognized in Prescott as a formidable business woman and activist. Her business grew quickly, and by 1914 she had moved out of the Congress Hotel. In 1916 she operated a millinery shop at 134 North Cortez Street selling ready-made dresses, hats, trimmings, ribbons and more for Prescott's fashionable ladies. She continued her beauty and chiropodist businesses, gave manicures and sold hair products. Active in Mount Olive Baptist Church, she presented a paper at a June 1919 Rally Day Service when the church raised $309.20 towards retiring its debt.

In 1919 Hunter married former Phoenix "Dr." E. E. Hilbert, who treated rheumatic diseases, becoming Madam Hilbert. The same year she extended the scope of her business, renaming it Madam Hilbert's New Idea Store. A review in the November 8, 1919, Phoenix Tribune described it as a "store within a store. In the front were ladies' and children's ready-made garments, hats, caps, shoes, toilet articles and a score of novelties that appeal to women. In the rear was the work shop, where Madam Hilbert makes and trims hats, her manicuring parlors and hair dressing room." She continued chiropody and had a room for massages and other drugless treatments. The article noted that Mr. Hilbert was the store's general manager.

The Hilberts purchased a Chevrolet in spring 1920. One outing included Dewey, Clarkdale, Cottonwood and Jerome. In 1921 they drove to California for a month's vacation and boasted that the Chevrolet took them there and back without mishap.

Identified as mulatto on the 1920 U. S. Federal Census, the Hilberts helped establish the Prescott division of the Universal Negro Improvement Association and African Communities League (UNIA). Founded by Marcus Garvey in 1914 in Jamaica, the UNIA - dedicated to racial pride, economic self-sufficiency and the formation of an independent Black nation in Africa - was introduced to New Yorkers in 1916 and quickly spread to other urban areas. The local Prescott chapter organized in May 1921 and received its charter on September 2. Madam Hilbert was immediately put in charge of the group's weekly meetings. Mr. Hilbert and two men from Prescott drove to Los Angeles in June 1922 to participate in a parade with Mr. Garvey and hear his address.

The following month, Madam Hilbert visited New York and Illinois. A highlight was attending the Second UNIA Convention in New York City. She returned to Prescott in September with new ideas for both the local chapter and her business. Left in the care of her husband and Miss Lola Ramsey, a former millinery and beauty culture student, the shop was reportedly well run in her absence.

The demise of the Phoenix Tribune made information about the Hilberts sparse after 1923. According to the 1930 Census, she owned a beauty culture business. She passed away on April 8, 1939 from a cerebral thrombosis. "Dr." Hilbert lived until 1953. Both are buried in Prescott's Odd Fellows Cemetery.

"Days Past" is a collaborative project of the Sharlot Hall Museum and the Prescott Corral of Westerners International (www.prescottcorral.org). This and other Days Past articles are also available at archives.sharlothallmuseum.org/articles/days-past-articles/1 The public is encouraged to submit proposed articles and inquiries to dayspast@sharlothallmuseum.org Please contact SHM Research Center reference desk at 928-277-2003, or via email at archivesrequest@sharlothallmuseum.org for information or assistance with photo requests.