by Lolita Mann Paddock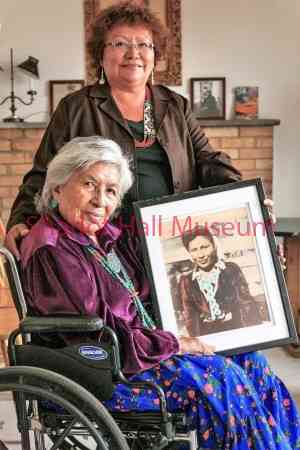 Jean Huskon Mann, Navajo weaver, was born and raised near Shadow Mountain and Gray Mountain, Arizona. She married Henry Mann at age 17, and they raised eight children together in the Navajo Reservation community of Cameron until Henry died at age 36. As a single mother, Jean's main source of income was weaving Navajo rugs at home, at the Grand Canyon and at Cameron Trading Post. She retired from weaving in her 70s. Now close to 90, she lives in a nursing home in Flagstaff.

In August 2010, author Kathy Eckles Hooker and photographer David Young-Wolff visited Jean at her Cameron home. Their photographs and an interview are included in Voices of Navajo Mothers and Daughters: Portraits of Beauty. Its publication revealed Jean's history as a Navajo weaver and her warm, spiritual relationship with her children.

Readers will appreciate her lifelong resiliency. Both parents died by the time she was 11. However, her embrace of Navajo culture and Navajo Beauty Way teachings (an emphasis on holistic union of beauty, balance, harmony and well-being) strengthened her life, as well as her children's lives.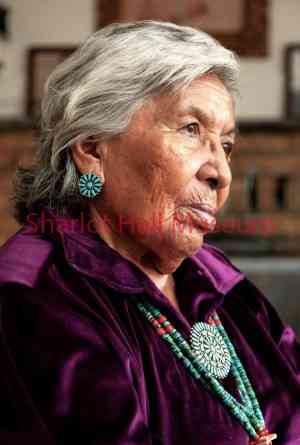 Jean's daughter Mindy Nez says, "You can hear her praying at night. My mother usually prays for everybody. It is not like a religion. In the Navajo way, you talk to the whole universe like nature. She asks for everyone to live a good life and to prosper. She is usually praying for everybody. Her prayers are almost like songs or poems."

A young mother when she first heard about the weaving job in the Grand Canyon, Jean recalls, "I asked my daughters, because I never worked away from home before. They all said to go ahead and take the job. We will take care of the younger kids in the family." Jean's daughter Lolita Mann Paddock explains, "My parents were laborers. My dad became a carpenter. Until she went to work at the Grand Canyon, my mother worked as a maid at Buck Rodgers Trading Post in Cameron."

Jean says that once she was hired, "These people had me living in an apartment that was already paid for. I spoke only Navajo, but I was able to pick up English over time." Jean had attended Tuba City Boarding School. "My family would take us to school in the wagon all the way to Tuba City. We would spend the night a little beyond Shadow Mountain and make it to the boarding school the next day."


"I only had three years of school at Tuba City. I was really mad because I wanted to go more. Then I got to go to school in Oregon and live with a family. I met my husband there. He saw me and said that he wanted to marry me. I brought him back to the reservation, and he worked in the uranium mines for a while."

Daughter Mindy says, "My mother's personality is very calm and subtle. She has a nice aura about her. She is quiet, and we are loud. Our dad was boisterous with a lot of laughter. Mom is more reserved." Once she became known for her artistry, Jean wove rugs for the Natural History Association. She demonstrated the carding and spinning of wool and weaving as part of a living-history program.

Jean says, "You might think this is kind of odd, but I did not want my daughters to weave. I have eight daughters, and none of them know how to weave. It is a hardship to weave all the time and to raise a family. I had to work hard and earn my way. I wanted them to be in school and finish their education."

If you want to know more, come listen to Lolita Mann Paddock's talk on August 5 at the 20th Annual Western History Symposium to be held at the Phippen Museum of Western Art.
"Days Past" is a collaborative project of the Sharlot Hall Museum and the Prescott Corral of Westerners International (www.prescottcorral.org). This and other Days Past articles are also available at www.archives.sharlothallmuseum.org/articles/days-past-articles/1 The public is encouraged to submit proposed articles and inquiries to dayspast@sharlothallmuseum.org Please contact SHM Research Center reference desk at 928-277-2003, or via email at archivesrequest@sharlothallmuseum.org for information or assistance with photo requests.