By Bob Baker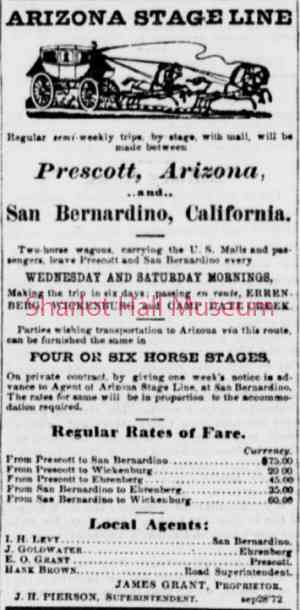 James Grant was a well-known and respected figure in early Arizona Territory. While his crowning achievement was starting the first stage line to provide through transportation from Prescott, the territorial capital, to San Bernardino, California, he also worked as a teamster, a contract mail carrier, mercantile store owner and a territorial auditor.

Grant left Canada in 1854 seeking new opportunities in California. Upon arrival he opened a mercantile business in Marysville that he ran for several years. In 1863 he collaborated with John R. Fink to start a mail stage from San Bernardino, California to La Paz, Arizona Territory. Subsequently, they won the U.S. Mail contract and Fink sold out to Grant. Grant was one of the first white men to cross the Great Colorado Desert from San Bernardino to La Paz. He often carried the mail himself despite the rough terrain, unsettled relationships with Indigenous tribes and unpredictable weather.

The Territorial Census of 1864 lists 46-year-old James Grant, born in Canada, residing in the Arizona Territory and working as a teamster. On October 3, 1866, the 3rd Legislative Congress of Arizona Territory appointed him Territorial Auditor with a salary of $500 per year plus $150 for expenses ($24,689 today). He resigned on April 27, 1868. During that time, he also owned a store in Prescott.

On August 29, 1868, The Weekly Arizona Miner announced, "Mr. Jas. Grant having sold his stock of goods to Allen & White, has left Prescott, and will hereafter, be found on the road between Prescott and La Paz, seeing that mails and passengers are forwarded with speed and regularity."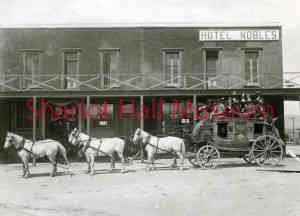 On August 14, 1869, the newspaper reported, "Mr. James Grant, the mail contractor, is making the necessary arrangements to run a weekly line of stages from La Paz to Prescott. The stages will connect La Paz with San Bernardino stages, and the passengers will be able to procure through passage to Prescott." American Ranch became the first stage stop out of Prescott on this new route.

In September 1869, Mr. Grant began a twice-weekly passenger service from Prescott to Wickenburg and La Paz with connections to San Bernardino. On October 2, 1869, The Weekly Arizona Miner announced, "James Grant, the pioneer stage man of this section, arrived here Tuesday afternoon last, from California, in a new Concord wagon, drawn by six mules, in which, also came the mail and six passengers…" The Concord stagecoach was the best and most expensive coach of its day. The coach was very solidly built and had a unique system of leather support straps that provided a smoother ride for passengers and added stability. The Concord could carry up to 21 passengers: nine inside and up to 12 on top, plus the driver and armed messenger. Grant's use of the Concord coach, along with a four-year U.S. Mail contract, gave him an overwhelming advantage over any potential competitors.



The 1870 U.S. Census lists Grant as living in Prescott, working as a mail contractor. On May 18, 1872, The Weekly Arizona Miner wrote, "Grant's Stage Line - Among the first enterprises of Arizona the Mail and Express Line of Mr. James Grant. At present, the route is well stocked in every sense of the term. The coaches are commodious; the drivers-ex office conductors-gentlemanly and accommodating, the fare for passengers as reasonable as can be expected."

Just three years later, on March 21, 1875, Grant reportedly died of "hardship and exposure" at the age of 51 while searching for a shorter stage route across the desert.

"Days Past" is a collaborative project of the Sharlot Hall Museum and the Prescott Corral of Westerners International (www.prescottcorral.org). This and other Days Past articles are also available at archives.sharlothallmuseum.org/articles/days-past-articles/1 The public is encouraged to submit proposed articles and inquiries to dayspast@sharlothallmuseum.org Please contact SHM Research Center reference desk at 928-277-2003, or via email at archivesrequest@sharlothallmuseum.org for information or assistance with photo requests.