by Marjory J. Sente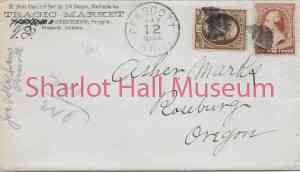 From 1880 and for more than four decades, J. (Josiah) Q. Stephens was a prominent rancher and businessman as well as a mine developer in Yavapai County. In 1880 Stephens moved his family to Prescott from Roseburg, Oregon, driving 160 head of horses and mules. According to J.Q.'s son Joe, interviewed in the February 21, 1947 Yavapai County Messenger, the demand for the stock was high and it was quickly sold, allowing him to buy cattle ranches. Stephens's first purchase was the 7-Up ranch at Camp Wood. The Head and Lincoln outfit, the 5-Bar, the Diamond and a Half and the Long Meadow were ranches that Stephens operated in Williamson Valley.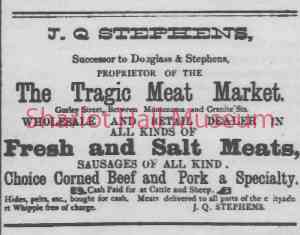 Although more than a thousand miles from Roseburg, Oregon, Stephens was in close contact with his friend Asher Marks. In 1883 his letter to Marks stated, "I think I will come back there and get some more good mares as they are very high here. . . This is a good country to make money in, but it takes time to get acquainted and get started right."

By 1886 Stephens had purchased a meat market in Prescott. An ad in the January 13, 1886 Arizona Weekly Journal-Miner indicated that The Tragic Meat Market was located on Gurley Street between Montezuma Street and Granite Street. (Note: The author was unable to find out why the meat market was referred to as "tragic".) The store sold fresh and salt meats as well as sausages of all kinds. Cash was paid for cattle and sheep, hides and pelts. Meat was delivered free of charge to all parts of the city and Fort Whipple.

"The Tragic Market and J. Q. Stephens" are the return address names on an envelope with a May 1886 Prescott postmark. Stephens had recently bought out his partner, Douglass. In fact, Stephens was still using old Douglass and Stephens stationery and crossing out Douglass's name.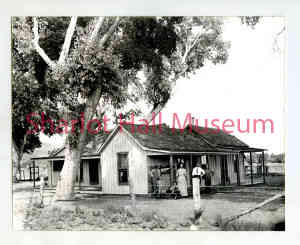 Stephens had borrowed money from Marks to buy the store and, according to the enclosed letter accompanying a payment on his debt, he was excited about the prospect of the railroad coming to Prescott. "We are going to have a branch R.R. to our city and we will have a boom. I have a nice little business here, but it does cost so much to live. I have never been able to build me a house, but have been paying rent ever since I have been in Arizona but I think I will come out all right after a while. I am very near half a hundred."

In addition to ranching and the butcher shop, J.Q. had other entrepreneurial interests. In 1900 he was busy building a water storage dam on his ranch. It was anticipated to be a mile long, a quarter of a mile wide and fifteen feet deep. The February 24, 1900 Oasis speculated that it could be quite a resort for boating, fishing and tourists.

The July 29, 1900 Arizona Republican reported that Stephens sold his entire cattle interests to Frank Stevens and M. Z. Farwell. In addition, that year he registered a location notice for the Prince of Wales mine in the Eureka mining District. By 1906 Stephens and his wife Catherine were living in Los Angeles with his interest in mining continuing. The January 21, 1912 San Francisco Call reported that he had finished assessment work on claims in the Hillside District and found not only substantial amounts of copper but gold and silver, too. Stephens died in 1924 and is buried in the Inglewood Cemetery in L.A. County.

"Days Past" is a collaborative project of the Sharlot Hall Museum and the Prescott Corral of Westerners International (www.prescottcorral.org). This and other Days Past articles are also available at www.archives.sharlothallmuseum.org/articles/days-past-articles/1 The public is encouraged to submit proposed articles and inquiries to dayspast@sharlothallmuseum.org Please contact SHM Research Center reference desk at 928-277-2003, or via email at archivesrequest@sharlothallmuseum.org for information or assistance with photo requests.