By Worcester P. Bong
If you've been to the Prescott campus of Yavapai College attending a performance at the Performing Arts Center or taking a walk through the sculpture garden next door, you will notice the original south gates to Fort Whipple. When construction of Yavapai College began in 1968 in Prescott, the planners had the foresight to retain these gates as a historical marker for future generations to see. So what was it like traveling past the south gates and what historical buildings were in place before Yavapai College opened in September 1970?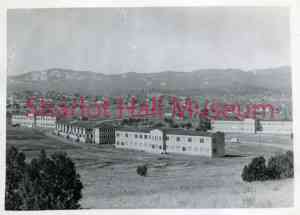 While Fort Whipple has been in existence since 1864, it was reactivated in 1902, leading to construction of barracks and officer's quarters. A dirt roadway between the south gates and first officer's quarters was all that existed.

Between 1905 and 1912 however, Prescott & Mount Union Railway operated an electric trolley route between the fort and downtown Prescott. The route went east on Gurley Street (starting near Park Avenue) through town to Arizona Avenue. It then turned north, then east on Sheldon Street, crossing a gulch on a trestle and entering Fort Whipple near where the south main gates are located. However, when Fort Whipple was decommissioned in 1913, the soldiers and their families were transferred elsewhere and the trolley line, which never made a good profit, was closed.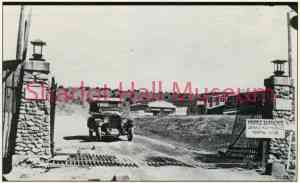 When the United States Army again reactivated Fort Whipple as U.S. Army Hospital No. 20 in 1918, funding was allotted to make improvements to it to serve as a sanatorium for the treatment of tuberculosis (TB). Historic photographs and a 1919 map of the land currently occupied by Yavapai College shows two 2-story TB wards for officers, three TB wards for enlisted men, an officer's infirmary and a mess hall located there. Upon completion of the hospital's expansion in June 1920, Whipple hospital was known as the most complete tuberculosis sanatorium in the country.

Further improvements to the road between the hospital and Prescott followed. In a November 22, 1922 article, the Weekly Journal-Miner reported that the paved road to Whipple Hospital was completed. The city's portion of the project started in May 1921 on Sheldon Street from North Mount Vernon to just past Washington Street (Prescott's city limit at the time). The county's portion extended the paved road from Washington Street to the south main gates of Whipple Hospital.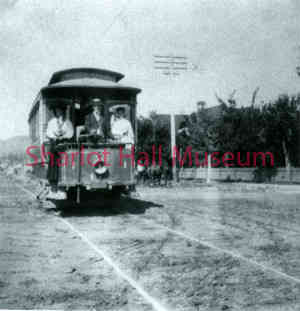 In an October 10, 1993 article of the Prescott Courier, Anita Lee (Simmons) Maudlin writes about her childhood experiences walking to Washington School from her family's residence on the Whipple Hospital grounds between 1925 and 1929. Her father worked as a security guard and manned the south main gates in the 1930's.

Once Whipple Hospital was transferred to the Veterans Administration (VA) in 1931, many of the buildings, including all the TB wards, were torn down.

The south main gates were still used by townspeople coming to the hospital grounds until late 1939, when a new entrance along Ash Fork highway (present-day Highway 89) to the Whipple VA Hospital was completed. The south gates then became a service road entrance.

In a recent telephone interview with Doctor W. James Nethery, he noted "As a child, I lived on the campus of Whipple VA Hospital between 1942 and 1946. My father was a Navy doctor at the Whipple VA Hospital". He recalled walking to Washington School and passing old building foundations and abandoned steam tunnels.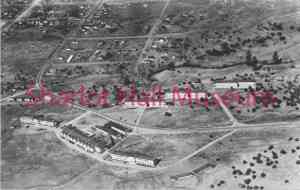 In 1966, after Yavapai County voters approved the establishment of a junior college district in Prescott, an initial 46 acres of city-owned land next to the Whipple VA Hospital was sold to the college (now known as Yavapai College). On June 14, 1968, the Bureau of Land Management issued a lease to the college for another 55 acres of land adjacent to Whipple VA Hospital.

In remembrance of the historical significance of the land, the gates were moved in 1990 to make room for the Performing Arts Center, and in Fall 2012, Yavapai College facilities management staff restored the south main gates to their original condition. In August 2018, Yavapai College (YC) celebrated its 50th year.

"Days Past" is a collaborative project of the Sharlot Hall Museum and the Prescott Corral of Westerners International (www.prescottcorral.org). This and other Days Past articles are also available at https://www.sharlot.org/articles/days-past-articles.l. The public is encouraged to submit proposed articles and inquiries to dayspast@sharlothallmuseum.org. Please contact SHM Library & Archives reference desk at 928-445-3122 Ext. 2, or via email at archivesrequest@sharlothallmuseum.org for information or assistance with photo requests.