By Brenda Taylor
As the early pioneers established settlements and towns began dotting the deserts and forests of the Southwest, a specialized group of frontiersmen began arriving in these newly formed places. These were not your ordinary pioneers; they were part artist, part technician and part chemist. These were the frontier photographers who came to the Southwest, and ultimately Arizona, documenting the landscapes, Native Americans, ruins and culture, miners and mines, shipping and freighting industries, businesses, townspeople and the growth that was springing up around them. Some established photographic studios in burgeoning towns, and others were itinerant photographers who wandered through the deserts and woodlands documenting their discoveries. The Grand Canyon was a particularly hot spot for these image adventurers.

Here in Prescott, one of the first photographers to establish a commercial photographic studio, the "Old Gallery," was William McKenna in August 1874. Before this date, a few photographers had come and gone for a short time, but McKenna stayed, at least until October 1875, when photographer W. H. Williscraft bought the studio. In 1877, after Prescott became the capitol of the Territory for the second time, Williscraft renamed his studio the "Capital Art Gallery." Soon after, another photographer, Daniel Francis "Frank" Mitchell, arrived in Prescott to meet up with his parents, Daniel and Angeline Mitchell, who came with the Callen Party in 1875. Frank set down roots and became one of the main photographers and studio owners for many years. In January 1884, Mitchell partnered with Erwin Baer, and together they documented and created some of the most indelible images of Prescott.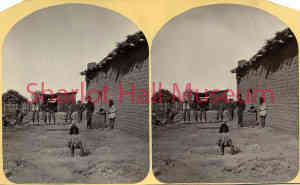 These early photographers had to hand-cut sheets of glass or metal and mix their own chemicals to create the necessary emulsions to coat their glass or iron plates. The collodion emulsion process was developed in 1848 and used extensively until the 1880s. Collodion was a mixture of gun cotton (the result of combining purified cotton with nitric and sulfuric acid), ether and alcohol and then mixed with potassium iodide or bromide and poured evenly over the surface of a base material. It was then soaked in silver nitrate solution and placed in the holder, exposed in a camera and developed, all while still wet; hence, the "wet plate" collodion process. Being part chemist was no joke when it came to early-day photographers.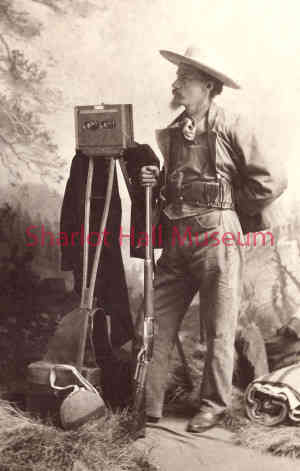 Tintypes or ferrotypes used the collodion emulsion mixture as well, but instead of coating a glass plate, it was poured onto thin sheet iron that had been lacquered black or dark brown. Tintypes became very popular during the Civil War as photographers took portraits of soldiers in military camps. It was easier to send tintypes via mail than glass plates, and the tintype process was less expensive than other photographic processes. Tintypes would continue in popularity into the twentieth century.

Why all this information on photographers and photographic processes? Many people believe it is next to impossible to date and identify old photographs. However, whether you are a writer, researcher, librarian, archivist, publisher or your family's genealogist or historian, everyone can benefit by acquiring some rudimentary knowledge of photographic history, photographers, the different types of photographic processes and which photographic formats were in use during certain times.

If you are interested in learning more methods to help you date, indentify and preserve your family photographs, please join Sharlot Hall Museum Librarian-Archivist, Brenda Taylor, and long-time volunteer and genealogist, Sue Kissel, for a free presentation on Saturday, October 19 at 2pm in the SHM West Gallery.
"Days Past" is a collaborative project of the Sharlot Hall Museum and the Prescott Corral of Westerners International (www.prescottcorral.org). This and other Days Past articles are also available at https://www.sharlot.org/articles/days-past-articles.l. The public is encouraged to submit proposed articles and inquiries to dayspast@sharlothallmuseum.org. Please contact SHM Library & Archives reference desk at 928-445-3122 Ext. 2, or via email at archivesrequest@sharlothallmuseum.org for information or assistance with photo requests.