By Murray Smolens
Women's roles in history have usually been relegated to second-banana status, except for notables such as Cleopatra, Joan of Arc, Queen(s) Elizabeth and Catherine the Great of Russia. But frequently, women "behind" the men were actually out in front, or at least a full partner in their spouse's success. Jessie Ann Benton Frémont (wife of John C. Frémont, fifth territorial governor of Arizona) was certainly one of these women.


Jessie was the daughter of Thomas Hart Benton, one of the preeminent political figures in mid-19th century American history. As a chief proponent of "Manifest Destiny," the idea the United States was preordained to swallow up the North American continent from sea to shining sea, he worked tirelessly as a congressman and senator to make it happen. After John Charles Frémont came along and swept fair young Jessie off her feet and married her when she was just 17, she became a full partner in reporting his five major missions to the American west. Before Frémont, the area west of the Mississippi was considered "The Great American Desert." After his best-selling travelogues were published by the Federal Government and distributed, thousands of readers were inspired to forsake everything and migrate west, thus helping to fulfill Senator Benton's dream. It was Jessie who arguably turned many of the phrases that moved them, in spirit and action, to follow John Charles Frémont's footsteps.

Jessie published over fifty stories, articles and essays in the late 1800s. She corresponded with some of the most influential literary figures of the day, including Horace Greeley, Rebecca Harding Davis and John Greenleaf Whittier. Her initial publication in 1863, The Story of the Guard, was a detailed and sentimental narrative of a Civil War battle fought by J.C. Frémont's elite Guard unit that defeated rebel forces at Springfield, Missouri and turned the tide there in the early stages of the war. The book was a best-seller and gained much praise from critics.

After an interlude to support John in his ultimately failed fight to save the family fortune, Jessie returned to writing in 1873 to earn much-needed funds. A series of columns in the New York Ledger over the course of twenty years on figures she had known personally, such as former Presidents Martin Van Buren and Andrew Jackson, Kit Carson and Hans Christian Anderson, provided experience as a writer, not to mention $100 per column.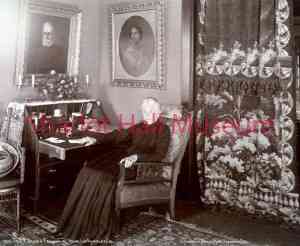 In 1878, A Year of American Travel was released. It was an account of her trip with daughter Lily to California via the Panama of pre-Canal 1878. It was considered entertaining and sympathetic to Hispanic, French and Native American peoples whom she said were treated shamefully by the U.S. government, in defiance of its own treaties. Subsequent works, praised by critics for their sensitivity, tastefulness and wisdom, tended to incorporate her personal experiences, emphasizing female characters who reflected the qualities that she revered and exemplified: pioneer determination and fierce loyalty in the face of opposition.

Jessie had mixed feelings about the nascent women's rights movement. She would not sign a women's suffrage petition in 1866 but supported Susan B. Anthony. She later hosted Julia Ward Howe's women's rights speech. She was proud of her ability to support the family's finances at a time when it was considered outside a woman's place.

Jessie Benton Frémont may have been ambivalent about her role as wife of John C. Frémont, but her writings exhibit her great pride in acting as his confidant, strategist and chronicler of his exploits. She once declared, "I am J.C.F's pen." Her husband did not disagree.

"Days Past" is a collaborative project of the Sharlot Hall Museum and the Prescott Corral of Westerners International (www.prescottcorral.org). This and other Days Past articles are also available at https://www.sharlot.org/articles/days-past-articles.l. The public is encouraged to submit proposed articles and inquiries to dayspast@sharlothallmuseum.org. Please contact SHM Research Center reference desk at 928-445-3122 Ext. 2, or via email at archivesrequest@sharlothallmuseum.org for information or assistance with photo requests.