By Susan Cypert
Dr. Florence Brookhart Yount's work as the first licensed woman physician in Prescott touched and shaped many lives for over 30 years.

According to Elisabeth Ruffner, her greatest gift was that "She received each person as if their interests were her only one… even in the most harried of times." "Dr. Pat" is still remembered by many in Prescott as the lady doctor who delivered "Grade A" babies, eventually delivering whole families and subsequent generations of their babies.

Not only did she devote her medical career to the welfare of the community, especially children, she also spearheaded and supported community and civic projects to improve public health, like building a well-baby clinic during the Depression and a hospital during WW II.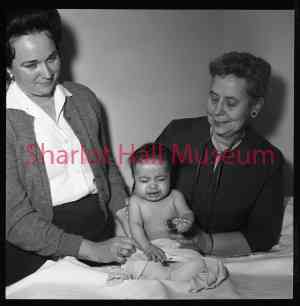 Florence Hearne Brookhart was born to Smith and Jennie (Hearne) Brookhart March 5, 1909, in Washington, Iowa. In 1922 her father was elected to the U.S. Senate, and five years later the family joined him in Washington, D.C. She grew up a cosmopolitan young woman, often spotted tooling around Washington, D.C. in her sporty roadster.

Always an independent, determined, out-front person, Florence was interested in science and medicine even as a young person. With her father's support, she attended George Washington University and Medical School as one of only five women in a class of eighty-eight. There she met her future husband, Clarence Edgar "Ned" Yount, Jr. from Prescott, Arizona. Ned's father, C.E. Yount, Sr. had been part of the Prescott medical community since 1902 when he came to Prescott to recover from tuberculosis.

Together, she and Ned interned at a Washington, D.C. hospital where Florence remembered delivering seven babies in one night. Once they completed their internships, they married on June 22, 1936. For their honeymoon, they traveled to Prescott. Ned stayed in Prescott and went into practice with his father, while Florence headed to Children's Hospital in Chicago for a residency in pediatrics.

Upon completion of her residency, Florence returned to Prescott in 1937 and took the state medical board exam to practice in Arizona. Once licensed, she joined her husband and father-in-law in practice in the old Masonic Temple building downtown, specializing in obstetrics and pediatrics. At first, patients mistook her for the office nurse, but Florence never let that bother her. "It's their problem, not mine."

She proved to be an excellent physician, with a personal touch and a very forward-thinking manner of caring for her patients. She made house calls, flew out the door for emergencies involving children at the county hospital, answered questions from patients by phone and accepted payment "in kind". She gave special attention to premature babies who survived thanks to improved technology. During the Depression, "Dr. Pat" established a well-baby clinic where large quantities of canned milk and vitamins were given out, and physical exams and shots were provided. Her medical philosophy was to limit drugs and encourage healthy diets to create her "Grade A" babies. After a year, a Yavapai county physician credited the clinic for not losing a single child during the summer despite Yavapai County's otherwise high child death rate. She loved to follow the children she brought into the world as they grew up, even becoming an avid Prescott High School Badger football fan and attending games when one of her kids was playing.

Next week, Florence's community and historical influence grows.

"Days Past" is a collaborative project of the Sharlot Hall Museum and the Prescott Corral of Westerners International (www.prescottcorral.org). This and other Days Past articles are also available at https://www.sharlot.org/articles/days-past-articles.l. The public is encouraged to submit proposed articles and inquiries to dayspast@sharlothallmuseum.org. Please contact SHM Research Center reference desk at 928-445-3122 Ext. 2, or via email at archivesrequest@sharlothallmuseum.org for information or assistance with photo requests.