By Nancy Burgess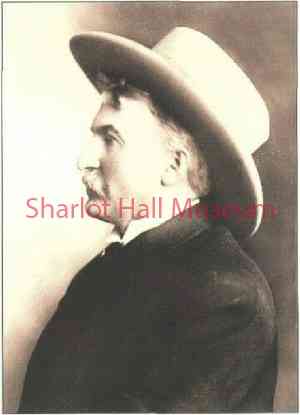 In Part 1, Don Maguire and his travels brought him to Arizona in 1878. After traveling and trading in Nevada, Maguire and his party of four men (including a Chinese cook, three wagons and twelve mules) arrived in Arizona Territory in the area near Prescott. They traded in "Walnut Grove Valley (25 miles from Prescott in 1877), Williamson's Valley, Skull Valley, Peebles [sic] Valley, and Kirkland Valley" for some three weeks, trade being "exceeding profitable."

While in the area, Don became very interested in studying the prehistoric ruins in the valleys and on the peaks. Finding large quantities of broken pottery, spearheads, arrowheads and axes, along with the foundations of dwellings and stone walls, he determined these were the remains of an "extinct race, who seemed to have inhabited this entire central region of Arizona in remote centuries."

Next, Maguire traveled to the southeastern part of Arizona Territory. Then, heading north from the Tucson area, Maguire and his men arrived in Prescott on December 24, 1878. Having rented a storehouse and a "dwelling house" in Prescott, the merchandise was unloaded into the rented storehouse. Keeping Christmas Day as "a sacred holiday," Maguire's party gathered at their rented home for a Christmas Day repast of "roast turkey and all other queenly luxuries I could secure in the Prescott market, added to the fairly good things that we had with us."

The day after Christmas, Maguire wrote that he had "ran an advertisement in the Prescott Miner" and sent two "callers" to the different streets to inform the inhabitants that he "was once more back in Prescott and to come over and inspect my goods." Maguire continued to trade until the day before New Year's, writing "we fell into the enjoyment of the New Year's holidays with the rest of our countrymen," and that "during that time, the little city of Prescott was very lively. From over the plains and mountains I had brought into that little city a stock of goods worthy of being handled in any part of the world, and the trade with which I had been favored had been very satisfactory to me."

By New Year's Eve, Maguire had decided to suspend trade until the second or third day of January. On a cold, crisp day around the first of January, 1879, explorer, traveler and trader Don Maguire went for a walk in Prescott. Maguire was a curious man, interested in people, the landscape, the rocks and minerals, the ancient ruins of a vanished people and, most of all, adventuring.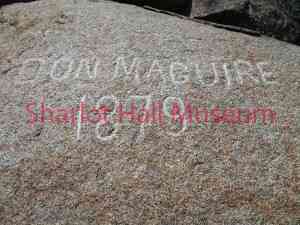 Although Maguire does not document in his journals how he spent all of his free time during his ten-day visit to Prescott, his adventurous nature would have meant exploring. At the top of a large, nearly five-story pile of granite boulders in Prescott is an inscription that reads, "Don Maguire 1879." He left his mark in an obscure location found many decades later by children who lived in the area—explorers themselves who asked, "Who was Don Maguire?"

Don married Agatha B. Wells, whom he met in Montana, in 1881. Maguire's trading days over, he wrote of Arizona, "Of course I am free to admit that I cursed your red-eyed rattlesnakes, your hated tarantulas, your villainous blowflies, your forty-seven kinds of lizards, and your repulsive death-dealing Gila Monsters. But your. . .men and women became near and dear to me. At times I wish that I could live that life again. But it cannot be." The Maguires settled in Ogden, Utah, and built a beautiful home that is listed in the National Register of Historic Places.

Gila Monsters and Red Eyed Rattlesnakes, Don Maguire's Arizona Trading Expeditions, 1876-1879, Edited by Gary Topping, University of Utah Press, 1997.

"Days Past" is a collaborative project of the Sharlot Hall Museum and the Prescott Corral of Westerners International (www.prescottcorral.org). This and other Days Past articles are also available at archives.sharlothallmuseum.org/articles/days-past-articles/1 The public is encouraged to submit proposed articles and inquiries to dayspast@sharlothallmuseum.org Please contact SHM Research Center reference desk at 928-277-2003, or via email at archivesrequest@sharlothallmuseum.org for information or assistance with photo requests.