By Nancy Burgess

"Now that we were in Arizona, a strange and novel spirit had come upon us. The fact that we had landed in Arizona after a journey of almost one thousand miles from Ogden, Utah, led me to feel that reaching the East bank of the Colorado River in Arizona was to have gained another milestone in my life." ¹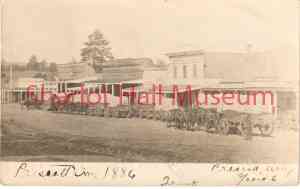 Before the arrival of the railroad in 1886, merchandise for the Arizona Territory came overland on the Santa Fe Trail, by ship from the eastern United States around Cape Horn or across the Isthmus of Panama to San Francisco and up the Colorado River by boat. Freight teams to Prescott brought goods overland on the Ehrenburg or Mohave Toll roads.

From 1876 to 1879, itinerant peddler Don Maguire made three trading expeditions through Arizona, California, Nevada, Utah and Mexico. He determined that the trading opportunities were ripe in the mining districts of the Arizona Territory, which were typically undersupplied. The expeditions were not without danger and Maguire did not go alone. He hired experienced, "good, trusty and worthy men." He required his men to be constantly well armed and alert, to keep to themselves, not talk to the locals, not explain their purposes and be loyal to him. In exchange he offered good pay, the best food and accommodations to be had, good horses, side excursions and vacations.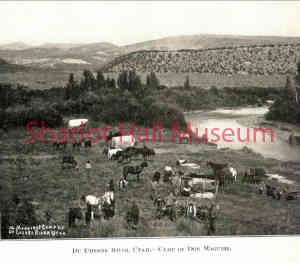 Who was Don Maguire? Don (Dominick) Maguire was born in 1852 in St. Johnsbury, Vermont, the youngest son of a merchant trader who moved his family west to Ogden, Utah in the 1870s. Maguire's first trading expedition to Arizona was in 1876. It was a cautious expedition as there were areas of the Territory that were largely unknown and unsettled. As Maguire wrote, "...if I was fortunate to return from Africa with my skin whole, might I not also hope to hold my own in Arizona under the flag of my own country? My mind was made up. I would at once prepare to go into Arizona."

After a long and circuitous route from Ogden across Nevada and into California, Maguire crossed the Colorado River at Hardyville into Arizona Territory. On February 20, 1877, they reached Prescott, which Maguire described as "well built and in a beautiful spot, beautifully laid out" and that "the morals of the town were fair to average." After eight days of trading in Prescott, Maguire headed south, destination Old Mexico. The entire expedition took eight months and eleven days. Maguire estimated they had traveled 4,793 miles. They sold $31,000 in merchandise. Maguire's considerable profit for the expedition was $9,247.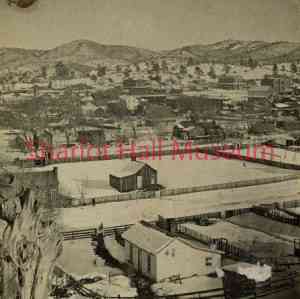 For his second expedition into Arizona Territory, Maguire went to New York City in July 1877 to purchase merchandise. He purchased "a considerable quantity of men's and women's clothing, mostly of superior quality, and in weight suited to a southern climate. I also bought a large variety of laces, ladies' underclothing, stockings for both men and women, a stock of California-made men's gloves, and some high class, American-made gold and silver watches. Also…a stock of field glasses, magnifying glasses, spectacles, cutlery such as Bowie knives, pocket knives, butcher or skinning knives, and hatchets; doubled barreled shotguns, Winchester and Sharp rifles, and Colt, Remington's and Smith and Wesson pistols." For the Arizona trade, Maguire purchased 2,500 decks of playing cards and 250 dice boxes with dice.

Don Maguire's third trading trip to Arizona Territory began in the spring of 1878 in Nevada. By December, he was in Prescott. You can read more about Don's second Prescott visit in Part 2.

The Don Maguire Papers are in the collection of the Utah State Historical Society.
1 Gila Monsters and Red Eyed Rattlesnakes, Don Maguire's Arizona Trading Expeditions, 1876-1879, Edited by Gary Topping, University of Utah Press, 1997.

"Days Past" is a collaborative project of the Sharlot Hall Museum and the Prescott Corral of Westerners International (www.prescottcorral.org). This and other Days Past articles are also available at archives.sharlothallmuseum.org/articles/days-past-articles/1 The public is encouraged to submit proposed articles and inquiries to dayspast@sharlothallmuseum.org Please contact SHM Research Center reference desk at 928-277-2003, or via email at archivesrequest@sharlothallmuseum.org for information or assistance with photo requests.