By Marjory J. Sente
Robert S. Patterson served in the Spanish-American War for less than five months, but his experiences left a lifetime of memories and motivation to remember his military brothers.
In 1947 the former Crown King postmaster wrote to Arizona's U.S. Senator Carl Hayden asking for Hayden's help in getting the Post Office Department to issue a stamp marking the fiftieth anniversary of the founding of the Rough Riders and the Battle of Las Guasimas. Senator Hayden forwarded Patterson's proposal to the Post Office Department. After refining the scope for the subject of the stamp, it was agreed that the First U.S. Volunteer Cavalry, better known as the Rough Riders, would be honored. Hayden also suggested that Solon Borglum's Rough Rider Monument would be a fitting model for the stamp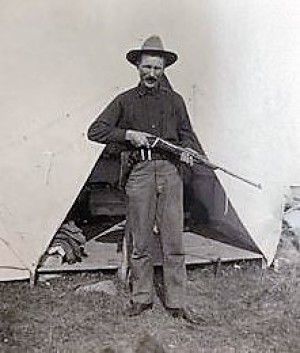 .
Patterson had not only gotten the ball rolling for the commemorative stamp that would be issued on October 27, 1948, he was the arrangements chair for the 50th anniversary reunion of the Rough Riders held in June 1948.
Fifty years earlier, in 1898, Patterson was living in Safford and operating a sawmill and lumber yard with a partner. As the conflict with Spain escalated, Patterson recruited fifteen men to join the Rough Riders. In late April, they left Stafford to come to Prescott and join up for service in Cuba. Reminiscing in his 1938 memoir located in the Crown King Historical Society archives, Patterson noted, "Governor McCord appointed me a second lieutenant in Troop A. Major Brodie (afterwards Colonel) was in charge. Buckey O'Neill was our Captain, and Frank Franz our First Lieutenant."
They camped at Fort Whipple and left Prescott for San Antonio on May 4th, arriving on the morning of the 7th. That morning Colonel Wood treated the officers to breakfast at a local hotel and laid out his plans for the regiment. While in San Antonio, Wood commissioned Patterson as the First Lieutenant of Troop C. "We left San Antonio the latter part of May or early June and went to Tampa, Florida where we established camp. A few weeks later 8 troops of our regiment were ordered to Cuba for service. The four which were left behind were C, H, M and one other." Patterson continued, "A detail of each of the other troops was left also, to look after their horses, as no horses were taken along, except the officers' horses."
Shortly after arriving in Tampa, Patterson came down with malaria and was sick-listed until he mustered out with the rest of the Rough Riders on September 15, 1898, at Montauk Point, New York. Before returning to Arizona, the troops spent time touring the New York City area as guests of the Phelps Dodge Corporation.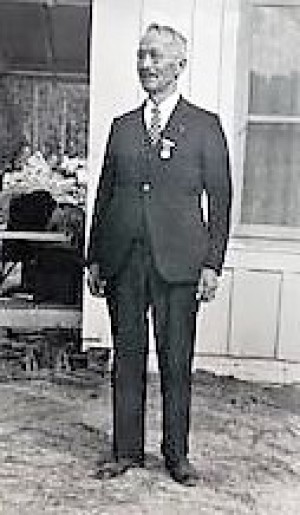 Patterson returned home to Stafford and said, "I remained in Safford until December 1900 when I went to Yuma and established the Bank of Yuma. The institution failed in 1904." After a series of jobs that took him back to Safford, then to Bisbee, and finally, to Tempe, Patterson went to Crown King in March 1916 for a visit and stayed there for more than thirty years.
In 1924, Crown King merchant Benjamin Sommer asked Patterson to take over his business and sell out the stock. Patterson agreed and eventually bought the business and the building as well as becoming the town's postmaster on March 13, 1925. He sold the store in 1933 but continued as postmaster until March 30, 1940.
In the 1950 federal census, Patterson was listed as a patient at the Veterans Hospital located at Fort Whipple. The following year on April 28, he passed away in Los Angeles. His body was returned to Arizona and is buried at the Prescott National Cemetery.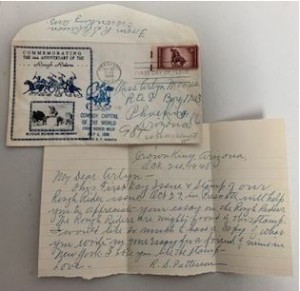 "Days Past" is a collaborative project of the Sharlot Hall Museum and the Prescott Corral of Westerners International (www.prescottcorral.org). This and other Days Past articles are also available at www.archives.sharlothallmuseum.org/articles/days-past-articles/1 The public is encouraged to submit proposed articles and inquiries to dayspast@sharlothallmuseum.org Please contact SHM Research Center reference desk at 928-277-2003, or via email at archivesrequest@sharlothallmuseum.org for information or assistance with photo requests.