By Mick Woodcock
While not resulting in death, the 1868 Weekly Arizona Miner noted that soldiers were having accidents resulting in injury. "Dr. Howard informs us that, a few days ago, a soldier named Gay, while going from Camp Whipple to Camp Lincoln, shot himself in the foot, accidentally, of course. He remained at Lincoln."

An article in the Weekly Arizona Miner from July 3, 1869 noted the following. "Death at Fort Whipple., - The remains of Sergeant Fisher, of Company L, 8th U. S. Cavalry, who died at Fort Whipple, Monday last, from the effects of a pistol-shot wound inflicted by himself, while under the influence of King Alcohol, were lodged in the Military burying grounds."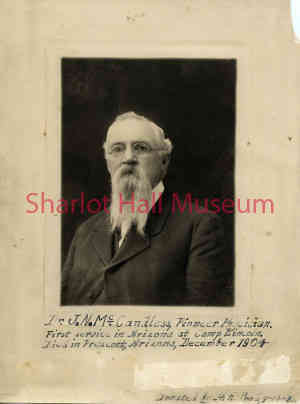 Fisher had apparently been drinking freely and became combative and quarrelsome. The guard was called to subdue him and march him to the guardhouse. Fisher grabbed a pistol and in the ensuing fight with the guard the revolver went off, the round hitting him in the chest. The newspaper noted that his untimely end should be a lesson to those who "…love the 'flowing bowl'…" too much.

Two months later a man named Alonzo Young was accidentally killed in a bizarre accident while traveling with three other men, returning from Prescott to Camp Tollgate on the Prescott and Mohave Road. They had ridden to about five miles from the military camp and had gone off the road to visit a spring. L. D. Hooper was riding next to Young. He had his pistol, in its holster, strapped to the pommel of his saddle. While he was dismounting, Hooper's pistol discharged, the round hitting Young.

Young initially did not realize he had been shot, and the other men believed they were being attacked. No other shots were heard and soon Young "…became aware of the fact, and very coolly told his fellow travelers that he was shot." They lifted him from his horse and laid him on the ground, trying to make him comfortable and hoping for the best. He died about an hour later.

He was conscious until the end and absolved Hooper of any blame for the accident. He also requested that his body be brought to Prescott and turned over to his Masonic brothers for interment in their burial ground. This was done a few days later. Young also requested that Hooper take charge of his estate and send the proceeds to his wife and family in Massachusetts.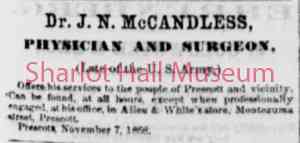 Another firearms accident with a military connection happened to Dr. J. N. McCandless, the military surgeon at Camp Lincoln. No details were given; however, he was injured at a local ranch while firing a Henry rifle. Apparently, a cartridge exploded outside the weapon and nearly blinded him. Since the Henry cartridge was a rim fire, it is possible he tried firing it, it did not go off, and as he ejected it, it exploded in his face.

Dr. McCandless was sent by the army to San Francisco to have his eyes treated in April 1868. The newspaper printed the following article on his return in October. "Dr. McCandless has got back from California, whither he went a short time ago to appear before the Medical Retiring Board. It will be remembered that last spring, at the Agua Frio Ranch, while the Doctor was in the act of firing a Henry rifle, the cartridge exploded, injuring, greatly, the sight of both his eyes. At the time he was in the service of the United States, and as his eyesight is ruined forever, Government should do something for him."

The good doctor settled in Prescott and practiced medicine here for many years.

"Days Past" is a collaborative project of the Sharlot Hall Museum and the Prescott Corral of Westerners International (www.prescottcorral.org). This and other Days Past articles are also available at https://www.sharlot.org/articles/days-past-articles.l. The public is encouraged to submit proposed articles and inquiries to dayspast@sharlothallmuseum.org. Please contact SHM Research Center reference desk at 928-445-3122 Ext. 2, or via email at archivesrequest@sharlothallmuseum.org for information or assistance with photo requests.