By Mick Woodcock
The early days of the Arizona Territory were a time when men went about armed. As Daniel Ellis Conner, a member of the Walker Party and an original settler in Prescott, wrote in his biography, Joseph Reddeford Walker and the Arizona Adventure, the carrying of firearms was a habit. On leaving Arizona for California he wrote, "I had often thought how pleasant it would be to unbuckle my belt and throw it with its scabbards and pistols altogether into the sea….But it was a long while before I could be accustomed to being without them, and I was constantly feeling that something was wrong, without thinking what it was, but on turning my attention to it I invariably found the annoyance caused by the absence of the heavy belt, which I had become accustomed to wearing."

The amount of fire power being carried by local citizens was noted in the October 16, 1869 Weekly Arizona Miner. "Scarce a night passes that we do not hear shooting, from some direction. Sometimes citizens get drunk and fire their pistols off; then soldiers get boozy and do the same thing. We really hope men would come to see the folly of carrying on in this way. It is ridiculous as well as dangerous. Of course, in a country like this, men are bound to go armed, when traveling or working in the country, but we have never yet seen the necessity for packing six-shooters and bowie knives in a peaceable town like this."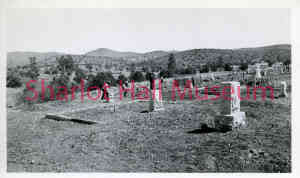 Interestingly enough, the first recorded firearms fatality in the area was a hunting accident. The Honorable Joel Woods, a former Colorado territorial legislator and recent immigrant to the new town of Prescott, was killed in a hunting accident in the local woods. This occurred June 1, 1864 and his funeral was the next day. "Mr. Woods was buried on the 2d instant in a beautiful ground just east of the town which will be reserved for a public cemetery." He had the dubious distinction of being the first burial in the new cemetery.

The historical record is silent regarding death by accidental discharge of a firearm until 1868. A May 9th newspaper article titled, "Sad Accident," described the shooting of Louis Ausbuettle at his mining claim. He put his revolver above where he was working and when it fell it "… went off and lodged a bullet in the unfortunate man's head. The ball entered his forehead a little above the left eye." He subsequently died.

In the same article it was mentioned that this was the second death by accidental gunshot in the mining district. "One Sunday morning, in the summer of '64, as a party of Coloradans who had just come to the country, were picking cherries in a flat above Boggs' old camp, one of them, who carried a shot-gun in his hand, and who was dragging it towards him, (with the muzzle pointed at his breast) through the brush, fell to the ground, shot dead through his own carelessness, by his own gun."



Another self-inflicted wound resulted in death, but this time from tetanus. The newspaper reported that a man in Wickenburg died of it as the result of shooting himself in the foot while trying to butcher a steer. The pistol discharged with the bullet lodging in his right heel. According to the Weekly Arizona Miner, "He suffered terribly, for several days, before Death came to his relief."

Next time, accidental shootings of soldiers.

"Days Past" is a collaborative project of the Sharlot Hall Museum and the Prescott Corral of Westerners International (www.prescottcorral.org). This and other Days Past articles are also available at https://www.sharlot.org/articles/days-past-articles.l. The public is encouraged to submit proposed articles and inquiries to dayspast@sharlothallmuseum.org. Please contact SHM Research Center reference desk at 928-445-3122 Ext. 2, or via email at archivesrequest@sharlothallmuseum.org for information or assistance with photo requests.