By Mick Woodcock
For the first three years of Prescott's history, there is no reported violence other than what occurred in the countryside as settlers worked on wresting the land from its original inhabitants. That changed in 1867 with the robbery of the home of a Mr. McGinley, in town with a theatrical troupe.

Then, in April 1867, there was a confrontation between Prescott residents and soldiers from Fort Whipple. The newspaper article stated that it was from "…the common custom of retailing bad whiskey", reporting that fifteen or twenty soldiers were wounded and taken back to the Fort Whipple Hospital where one of them subsequently died.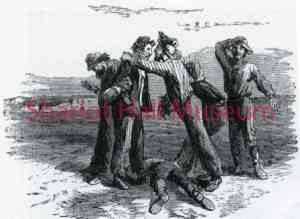 Things were quiet until November when the Arizona Miner reported a "Soldiers' Riot. – On Sunday night last, at an hour when most of our citizens had retired to rest, a party of cavalry and a party of infantry, who had been in town during the day and evening, drinking freely, got into a quarrel on their way to the Fort, and finally commenced shooting at each other. Many shots were fired, but with such inaccurate aim that only two men were wounded, and they not dangerously. The residents in the vicinity of the affray, which took place near the drugstore, were really in more danger than the rioters, but fortunately escaped injury. The shooting was heard at Fort Whipple, and its cause being suspected, in a few minutes Lieut. Fechet arrived upon the ground, arrested the rioters, and took them to the Fort, where we presume they were punished in accordance with military discipline. The events of Friday and Sunday nights should, we think, suggest to the officers at Fort Whipple the propriety of issuing an order prohibiting soldiers visiting town from carrying with them deadly weapons, which they certainly do not require for defense, and which when under the influence of liquor - a condition to which many of them are subject whenever they have an opportunity to indulge – they are apt to use in a reckless and dangerous manner."

The next edition of the newspaper reported that the "…following Thursday evening some drunken soldiers went to the residence of Mr. Banghart, in this place, and acted in a shameful manner. Such fellows are a disgrace to the service."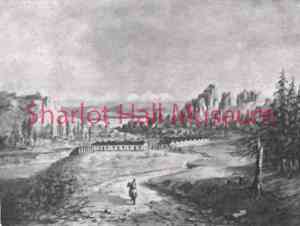 These incidents caused the editor of the Arizona Miner to write a lengthy article complaining that, "Nightly, the streets and surroundings of Prescott are made hideous by the curses, yellings, and random discharges of fire-arms, not to speak of the drunken jostling and intrusions upon private families, of the 'boys in blue,' Arizona's gallant defenders. In no other town that I have known, have the military authorities allowed these things to continue." He called for the Fort Whipple officers to keep better track of their men.

Apparently, not all disputes were settled with firearms. The Arizona Miner reported, "A Fight. – Our news gatherer says he saw as pretty a fight as a man need wish to see, between two soldiers, on Thursday evening, in front of the Montezuma. The boys stripped, and went in 'on their muscle' in gallant style. Result, one feller hollered 'nuff, when the argument closed under 'those head."

Early 1868 continued with soldier-related incidents. On St. Patrick's Day, a soldier was knocked down by John Roberts for hurling verbal epithets at him. This apparently did not result in any official action, but a couple of weeks later, Justice Blair issued a warrant for the arrest of a soldier who entered the home of a Mr. Davis and beat and abused Mrs. Davis.

Next week, the violence continues.

"Days Past" is a collaborative project of the Sharlot Hall Museum and the Prescott Corral of Westerners International (www.prescottcorral.org). This and other Days Past articles are also available at https://www.sharlot.org/articles/days-past-articles.l. The public is encouraged to submit proposed articles and inquiries to dayspast@sharlothallmuseum.org. Please contact SHM Library & Archives reference desk at 928-445-3122 Ext. 2, or via email at archivesrequest@sharlothallmuseum.org for information or assistance with photo requests.