By Bob Harner
Charlie Meadows toured Europe with Buffalo Bill Cody's wild west show from August through mid-October, 1892, during which Cody reportedly gave him his new nickname, Arizona Charlie. Returning to Vancouver, Charlie discovered that his wife, Marion, had made good her threat to disappear, along with their unborn child.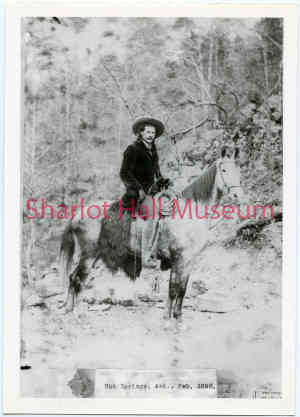 Undeterred, Charlie returned to Arizona and used the money earned on his Asian and European tours to form his own wild west troupe, Arizona Charlie's Historical Wild West. The show opened March 25, 1893 at the Phoenix racetrack, where 2500 spectators saw bronc riding, trick riding and roping, steer roping, bull riding, trick bicycle riding, bola throwing and either a stage coach robbery or an Indian attack on a settler's cabin (depending on the show time).

Charlie's troupe toured Arizona and California, where the Los Angeles Times described the show as "the most interesting entertainment ever witnessed in Southern California." When the troupe dissolved over internal conflicts, Charlie headed to the World's Columbian Exposition in Chicago to guest star with Buffalo Bill, whose show was being staged in competition with the exposition. When Cody moved on, Charlie returned to Arizona and used his earnings to form another troupe.

In 1894 and 1895, Charlie toured California with his new show, the Equestrian Carnival and Fiesta. Aside from his usual acts, Charlie tried to introduce a "muscle dance" featuring semi-naked women costumed like "nymphs in saloon pictures," but protests forced him to abandon the idea. While performing in Santa Cruz, Charlie hired a local horsewoman, Ida Mae McKamish. He renamed her Mae Melbourne (Charlie's estranged wife was Marion Mae Murray from Melbourne), and they soon became romantically involved.

The show made money, but Charlie spent most of what he earned, staging enormous free barbecues for publicity. Expecting to make up the difference with revenue from his side show, he discovered that the company hired to produce it had cheated him of all profits before skipping town.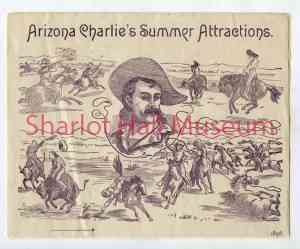 Back in Phoenix, Charlie and Mae reformed the troupe and staged the Phoenix Equestrian Festival on October 25, 1895, featuring a chariot race between Mae and Rosalie Higgens, who won. From there, the troupe toured Texas and then performed in Mexico in conjunction with local bullfights. While there, Charlie was lured into a plan to stage illegal bullfights in Cripple Creek, Colorado by an American promoter and con man, Joe Wolfe. Although the bullfights took place, both Charlie and Joe were arrested and jailed before paying their fines. Having learned his lesson in California, however, Charlie profited from the bullfights by stationing two of his trusted men in the box office, where they confiscated $25 of every $100 for Charlie's cut.

Between 1895 and 1897, Charlie's troupe toured Colorado, Arkansas, California and Arizona. In 1897, Charlie and Mae followed the Yukon Gold Rush, where they prospered (see Days Past, November 2, 2019).

After an ill-fated attempt to "conquer" a Mexican island in the Gulf of California, Charlie and Mae settled in Yuma, where he offered various wild west acts for hire and led hunting and fishing expeditions down the Colorado. His last major production was a 1908 show in Los Angeles featuring 150 performers. Except for a few Arizona performances featuring a magician and a "magic lantern" slide show, Charlie's show business career was over.

Charlie became increasingly quarrelsome with age, causing Mae to leave him in 1926. Charlie was once reported as saying, "It'll be a snowy day in Yuma, Arizona that day they plant this old Hassayamper." According to local lore, when Charlie died December 9, 1932, snow fell on Yuma for the first time.

"Days Past" is a collaborative project of the Sharlot Hall Museum and the Prescott Corral of Westerners International (www.prescottcorral.org). This and other Days Past articles are also available at https://www.sharlot.org/articles/days-past-articles.l. The public is encouraged to submit proposed articles and inquiries to dayspast@sharlothallmuseum.org. Please contact SHM Library & Archives reference desk at 928-445-3122 Ext. 2, or via email at archivesrequest@sharlothallmuseum.org for information or assistance with photo requests.