By Bob Harner
Word of Yukon gold reached the U.S. in July 1897; by August, former scout, rodeo champion and Buffalo Bill Wild West Show star Arizona Charlie Meadows assembled an expedition (the Arizona Company) and headed for Canada. Accompanied by his "wife," beautiful showgirl Mae McKamish Melbourne, Charlie was convinced he could make more money selling goods and services to miners than from prospecting.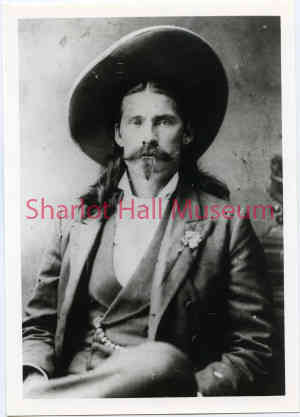 From Skagway to Dawson, Charlie took the Chilkoot Pass, operating a portable saloon and store for other travelers. As they climbed higher in the pass, Charlie's prices increased accordingly. Above the timberline, he sold firewood for $1 a stick and rented sleeping space in his large tent for $5 a night. This first venture ended abruptly when a section of glacier collapsed, releasing a lake that washed away forty tents and outfits, including all of Charlie's supplies.
Ever resourceful, Charlie purchased new supplies from discouraged prospectors who were turning back. Mae used some supplies to outfit two prospectors in exchange for a half share in anything they found.

Among the few making it to Dawson in winter, Charlie staked claims and hired others to work them. He also purchased an interest in the Alaska Placer and Coal Company. According to Charlie, "My first four months in Dawson I had some $40,000 in paper and 30 lbs. of gold nuggets…"

As the spring thaw brought crowds to Dawson, Charlie launched his next venture – the Klondike News, a "vanity" publication praising the exploits of the first Klondike prospectors to strike it rich (those willing to pay Charlie for the privilege of appearing in the paper). Lasting one issue, it earned Charlie an additional $50,000. Not one for modesty, Charlie's own profile called him "the King of the Cowboys…known the world over as the 'greatest horseman on earth'…"

In the meantime, Mae's grubstake deal with the prospectors earned her $100,000, and she became one of the town's best-dressed women.

Charlie next turned to the entertainment business, building multiple Dawson venues – the Opera House, Pavilion, Tivoli and Monte Carlo. All were destroyed in a massive winter fire. Charlie decided to replace them with one "world class" establishment, the Palace Grand Theatre. The result was a 500-seat (plus standing room) bar/auditorium with housing for visiting theatrical troupes and a luxury apartment for Charlie and Mae. To promote its opening, Charlie hosted a 40-person banquet with a $100 bank note on each plate.

The grand opening promised "the best vaudeville house west of Chicago" with "40 – Shapely Ladies – 40." The show, "The Grand Spectacular Production LA SIEGE INFERNO" included a three-act play, baton twirling, juggling, musical acts, trick bicycle riding, dancing, banjo playing and a trapeze act. Charlie made $12,000 opening night.

Later shows featured melodramas, variety acts and even a production of "Camille." Second acts of plays were sometimes delayed as the actresses hustled drinks in the curtained private boxes during intermission. Charlie performed in plays about pioneers, often riding his horse on stage. Between featured performers, Charlie entertained by shooting glass balls from Mae's hand until nicking her finger one night, ending those demonstrations. Evenings concluded with public dancing ($1 to dance with a showgirl), drink hustling and faro.

In 1899, gold was discovered near Nome, Alaska, and a mass exodus began, 8000 leaving Dawson in one week alone. Charlie briefly considered floating his three-story, five-ton building 1700 miles down the Yukon River to Nome, but common sense prevailed.

Charlie struggled with a rapidly shrinking clientele until 1901, when he sold the Palace Grand for $17,000 – a third of the cost to build it. Charlie and Mae returned to Arizona, settling in Yuma.

Before the Yukon, Charlie had already led an exciting and colorful life – but that's another story.

"Days Past" is a collaborative project of the Sharlot Hall Museum and the Prescott Corral of Westerners International (www.prescottcorral.org). This and other Days Past articles are also available at https://www.sharlot.org/articles/days-past-articles.l. The public is encouraged to submit proposed articles and inquiries to dayspast@sharlothallmuseum.org. Please contact SHM Library & Archives reference desk at 928-445-3122 Ext. 2, or via email at archivesrequest@sharlothallmuseum.org for information or assistance with photo requests.