by Shannon Williams
(First published 02/03/2018)

The term Downwinder is well known in Yavapai County. Downwind radiation exposure is cited in cancer diagnoses and blamed for the deaths of long-term residents of the county.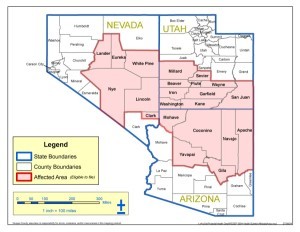 During the Cold War, the U.S. government built a huge nuclear arsenal. Above-ground testing began in 1951 at the Nevada Test Site where over 100 nuclear bombs were detonated. All nuclear testing stopped in 1958 by agreement among the United States, the United Kingdom and the USSR. In July 1962, the government detonated several above-ground nuclear devices for the last time. Nuclear testing continued below ground at the Nevada Test Site. January 21, 1951 to October 31, 1958 and June 30, 1962 to July 31, 1962, when above-ground testing was conducted, were later designated as Downwind time periods.

After the 1962 testing period, many workers at the test sites and local residents filed class action lawsuits alleging exposure to known radiation hazards. All suits were dismissed by the courts. Congress responded by creating the Radiation Exposure Compensation Act (RECA) on October 5, 1990. The Act expanded in 2000, when the Radiation Exposure Screening and Education Program (RESEP) was created. RECA provided monetary compensation to individuals who developed certain cancers following their exposure to radiation, authorizing the payment of $50,000 to individuals who lived downwind from the Nevada Test Site and developed one of the specified diseases.

Congress designated several counties in Nevada, Utah and Arizona as areas impacted by radiation exposure. In Arizona, the Downwind-eligible counties are Apache, Coconino, Gila, Mohave (above the Grand Canyon), Navajo and Yavapai.

Tom Brodersen conducted research and wrote a Days Past article on Downwinders that was published November 28, 2014. In it, he noted that "People in Prescott probably thought they had little reason to fear fallout from the Nevada Test Site approximately 250 miles northwest, as the dust flies. However winds often carried the radioactive dust into Yavapai County. Even if people knew that fallout was coming to town they might not have been concerned because throughout the 1950s the federal government issued continual assurances that there was no danger to the public." Assurances were published in booklets and brochures.

However, this didn't quiet all concerns about the consequences of nuclear testing. Within a decade of the first tests, leading scientists like Nobel-winning chemist Linus Pauling spoke publicly about atomic dangers and circulated petitions to stop nuclear testing. Organizations were created to make the public aware of the health effects of nuclear testing and radiation, including the Committee for Nuclear Information based in St. Louis. The CNI was organized by Doctors Eric and Louise Reiss, as well as scientists and civic leaders.

Local residents have been affected by these nuclear tests, as we now know. Perhaps the most well-known was longtime Prescott resident and former City Council member John Hanna, who died of non-Hodgkin's lymphoma in October 2013, which the government has acknowledged was likely caused by radiation from nuclear testing. Quoting from the book Downwind: A People's History of the Nuclear West by Sarah Alisabeth Fox: "Many families" in the areas affected by fallout "kept livestock and gardens or bought meat, milk, and produce from their neighbors, unwittingly gathering radiological contamination and placing it on their dinner tables."

To file a RECA claim, individuals must provide documentation to show physical presence in the Downwind counties for two years during the Downwind time periods. In addition, they must establish their diagnosis of compensable cancer, including leukemia, multiple myeloma, lymphoma and cancers of the thyroid, lungs, esophagus and breast, among others. Applicants don't need to provide causation on their cancer diagnosis. They only need to gather medical records that show proof of eligible cancer.
To learn more, come to Candice Lewis and Shannon Williams's Downwinder & RESEP presentation on Saturday, April 22, 2023 at 2pm in the Education Center Auditorium at the Sharlot Hall Museum. This will be a FREE lecture as it is a public service program to our Prescott area communities.
"Days Past" is a collaborative project of the Sharlot Hall Museum and the Prescott Corral of Westerners International (www.prescottcorral.org). This and other Days Past articles are also available at www.archives.sharlothallmuseum.org/articles/days-past-articles/1 The public is encouraged to submit proposed articles and inquiries to dayspast@sharlothallmuseum.org Please contact SHM Research Center reference desk at 928-277-2003, or via email at archivesrequest@sharlothallmuseum.org for information or assistance with photo requests.