By Barbara Patton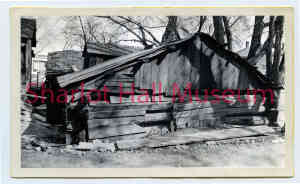 Women settlers started arriving in Prescott in early 1864. Mary Ramos was perhaps the earliest. Her name is associated with this region's first log cabin, "Ft. Misery," which rests today at the Sharlot Hall Museum.

Originally from Austin, TX, she came to Arizona in 1861 and moved to Prescott in 1864, where she went by the name Mary Brown. She soon purchased the log cabin store built by Manuel Yrissari and turned it into a small boarding house. For $25 a week, she provided meals, including goat's milk for coffee. The building also became a gathering place for early miners, was sometimes used as a church and, when needed, a court room.

Evidently, Mary was known for her kindness and good deeds. Before coming to Prescott, she lived in the southern part of the territory, possibly with a man named Hampton Brown. There is a story told by pioneer William Kirkland about how a woman called "Virgin Mary" assisted Larcena Pennington Page after Mrs. Page survived a kidnapping by Apaches. The name "Virgin Mary" followed her to Prescott, where she took care of the sick and provided charitable assistance when she could.

When another boarding house opened charging only $16/week, Mary sold her cabin to Judge John Howard and moved to a ranch on Lynx Creek, probably with Cornelius Ramos, whom she married on January 1, 1865. Mary lived out her life on Lynx Creek and passed away in 1876 at age 57. Her gravesite is unknown.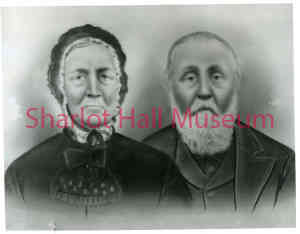 Another early settler, Celia Sanders, was a more conventional woman pioneer whose journey to Prescott took several years. In 1859 Celia was 53 years old and living a comfortable life in Illinois with Julius Sanders, her farmer husband, when word arrived of gold discoveries in Pikes Peak, CO. Despite her objections, Celia, Julius and children Robert, Irvin and Mary soon left for Colorado.

After farming near Denver for a couple of years, a new report of gold strikes in California led the family further west. They were farming and producing good crops in Lone Pine, CA, when a report of gold in the central mountains of the Arizona Territory caught her husband's attention. To Celia's dismay, their ranch was sold and, in January 1864, they were on their way to the Arizona Territory.

The first part of the trip was uneventful, but after crossing the Colorado River, disaster struck. At Cottonwood Creek, Irvin's gun dropped out of his holster and fired, shooting a bullet into his chest which came out near the top of his shoulder blade. Of course, there wasn't any medical help near-by, so Celia had to treat her son herself. She applied a poultice of prickly pear flesh to avoid inflammation. They waited a month before resuming their journey to give Irvin time to recover.

Rainy weather and muddy roads forced them to abandon their wagon. While Celia, Irvin and Mary rode horses, Julius and Robert walked, finally making it to Prescott in March, 1864. At that time, food and supplies were scarce, so for a few months the whole family worked at Ft. Whipple. Celia and eleven-year-old Mary worked as laundresses. The family ultimately started a good farm in Miller Valley. It wasn't long before Mr. Sanders thought it might be a good idea to move to Texas. The whole family rebelled and they stayed in Prescott. Celia lived to be 87 years old, passing away in Prescott on Dec 7, 1893.

Next week's article will cover more early women settlers.

"Days Past" is a collaborative project of the Sharlot Hall Museum and the Prescott Corral of Westerners International (www.prescottcorral.org). This and other Days Past articles are also available at archives.sharlothallmuseum.org/articles/days-past-articles/1 The public is encouraged to submit proposed articles and inquiries to dayspast@sharlothallmuseum.org Please contact SHM Research Center reference desk at 928-277-2003, or via email at archivesrequest@sharlothallmuseum.org for information or assistance with photo requests.