By Ken Leja
The idea was to offer a one-day event where one could enjoy a wide range of history lectures, talks and multi-media presentations. Featuring authors, historians and educators discussing a variety of subjects relevant to Western history and heritage, each free talk would showcase the legend and lore of the wild West.

Thus began Prescott's Western History Symposium. Fred Veil, then-sheriff (president) of the Prescott Corral of Westerners, floated the idea to local aficionados in 2003. The director of Sharlot Hall Museum at the time, Richard Sims, liked the idea and appointed Warren Miller, head of the Museum's Education programs, to work with Veil to develop and present the first program.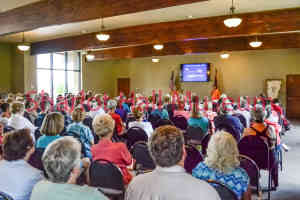 From that humble beginning in 2004, the Western History Symposium has provided more than 100 presentations by educators, historians, authors and others who have researched and written on specific topics relating to Western history, with an emphasis on Arizona. These have run the gamut from pre-history through the exploration and creation of the Territory, the founding and heritage of Prescott and Prescott's evolution into the middle of the 20th Century.

The military's 19th-century conflicts with the Territory's indigenous peoples have been a recurring topic, as have the cultural experiences of that century's inhabitants, settlers and pioneers.

The Symposium has attracted speakers from around the state and beyond, including author/historians Paul Hutton (New Mexico), Victoria Wilcox (Georgia), Larry Ball (Arkansas), Timothy Braatz (California), Ed Hulse (New York) and David Higgs (Mississippi).

Historian/educator Heidi Osselaer of Scottsdale has lectured on multiple occasions, as have such local favorites as Veil, Bruce Fee, Al Bates, Tom Collins, Sandy Lynch and Brad Courtney.

Initially, the Symposium was to feature selected topics and speakers from among those presented at Westerners' monthly meetings, offering a way to reprise the popular presentations for a broader audience at a single day-long event.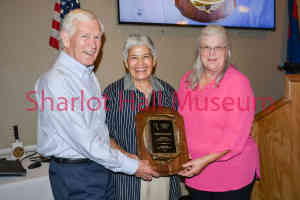 Further, the Symposium included concurrent presentations, allowing attendees to choose which of two talks scheduled for each hour they would attend. This concept was abandoned after a few years due to complaints from attendees who wanted to attend both lectures.

In 2010 the event was scheduled to coincide with the Westerners' monthly dinner meeting, adding an evening program to the Symposium agenda. Two years later that evening program was further expanded to include the presentation of the Museum's Sharlot Hall Award, which has been given annually (since 1984) to a living Arizona woman who has made significant contributions to the understanding and awareness of Arizona and its history.

Earliest venues for the Symposium included the Museum's theater in the Lawler Exhibit Center, as well as the Sharlot Hall and Granite Creek Center buildings on the campus. In a further effort to broaden its reach, live-streaming of the talks over the internet was offered but discontinued due to technical issues.

As popularity of the Symposium grew, the capacity of these venues proved inadequate. In 2012 the Symposium relocated to the Hassayampa Inn, where it remained until 2015 when it was moved to the Prescott Centennial Center near the airport.

Amid the recent pandemic, an abbreviated program (in 2020) was live-streamed from the new Education Center of the Museum. Its recording was posted to the Museum's YouTube page and website for viewers.

From its inception, the Symposium has been directed and coordinated by Veil, initially as a Westerner and (since 2014) in the dual role as a Westerner and Executive Director of the Museum.

Veil retired from the Museum in December 2020 and has passed on his active leadership in the Symposium to others within the Museum and the Westerners' organization. The Symposium, now in its 18th year, will be presented on November 6 at the Prescott Centennial Center.

Ken Leja is the former media and marketing manager of Sharlot Hall Museum and current deputy sheriff of the Prescott Corral of Westerners. For more information about the 2021 Symposium, contact the author at 928-830-8236.
For details see these websites: https://prescottcorral.org/symposium and https://www.sharlothallmuseum.org/festival/symposium/