By Karen Kamradt
Continued from Part 1 published on 7/2/2023

Throughout his five years as Chief and Tribal Leader, Sam traveled on many delegations to Washington on behalf of the Yavapai People. Sam and his wife Viola were also instrumental in organizing and lobbying Congress for Tribal recognition, working closely with national and local leaders including Grace M. Sparkes, Sharlot M. Hall, Grace L. (Genung) Chapman and Arizona's senior Senator Carl Hayden. On June 7, 1935, the current Yavapai-Prescott Indian Reservation was established on 75 acres transferred from the Old Fort Whipple Military Reserve to the Interior Department. In 1956, 1,320 acres were added to the Reservation.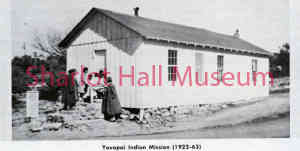 Sam has been described as "a firm though good leader, quiet and well respected by the members of the Tribe" in the biography Viola Jimulla: The Indian Chieftess by Franklin Barnett. "While he did not have any formal schooling, Sam did have that inborn ability to be a trusted leader." The author also noted that whenever crews of Yavapai worked on jobs for different employers (such as the county, railroad, the power company or streets/highways) Sam was always selected to lead and supervise the crews.
One of Sam and Viola's grandchildren, Theodore "Ted" Vaughn, remembered his grandfather in an oral history interview in 1997. "My grandfather was a short man. He was the Chief. I didn't realize it at the time, but in my eyes, if he stood in a crowd and talked with men, he was just as big as they were. I used to tell people my grandfather was eight feet tall - to me it seemed so. I guess what I go by is not really the book cover, but what is inside".
After Sam's accidental death in May of 1940, Viola became Chieftess of the Yavapai-Prescott Indian Tribe, the first Chieftess in the North American West. Her leadership was key to helping bridge Indian and Anglo cultures. Viola was a master basket weaver, and one of her designs has been adopted by the Yavapai-Prescott Indian Tribe as their Tribal Seal. She often taught classes on basket weaving to keep the weaving tradition alive for future generations.
The legacy of Sam Jimulla as Chief of the Yavapai-Prescott Tribe continued after Viola's death in 1966 when their daughter, Grace (Mrs. Don) Mitchell succeeded Viola as Chieftess in 1967. After Grace passed away in 1976, another of Sam and Viola's daughters, Lucy (Mrs. Jim) Miller became Chieftess until her passing in 1984.

Sam and Viola's descendants live and work in the Prescott area and around the country. Several grandsons, son-in-laws and nephews have served in the armed forces. Historically, in the 1800s, a few of their ancestors were Indian Scouts for the U.S. Army. Currently, some descendants are attending school and learning trades. Many are working in important and well-paying occupations.

In 1992 the Yavapai-Prescott Indian Tribe was the first Tribe in Arizona to have a Tribal/State Gaming Compact signed by Governor Fife Symington. The Yavapai-Prescott Water Rights Settlement Act of 1994 became public law as passed by Congress and signed by President Bill Clinton. Currently, a Tribal Board of Directors composed of a President, Vice-President, Secretary/Treasurer and two Board Members are elected biennially to govern the Yavapai-Prescott Indian Tribe.

Three primary groups of Yavapai exist today in Prescott, Fort McDowell and Camp Verde. The Yavapai-Prescott Indian Tribe promotes the education of their future leaders both culturally and academically. It also preserves the ancient culture of its ancestors and works diligently to achieve economic independence through numerous tribal enterprises. The Tribe is one of Prescott's largest employers, owning a 162 room resort, two casinos, a business park and a shopping center.

To learn more about the Yavapai People, visit the exhibit "The Baskets Keep Talking" at the Sharlot Hall Museum or contact the Yavapai-Prescott Indian Tribe Culture Research Department (928) 515-7202.
"Days Past" is a collaborative project of the Sharlot Hall Museum and the Prescott Corral of Westerners International (www.prescottcorral.org). This and other Days Past articles are also available at www.archives.sharlothallmuseum.org/articles/days-past-articles/1 The public is encouraged to submit proposed articles and inquiries to dayspast@sharlothallmuseum.org Please contact SHM Research Center reference desk at 928-277-2003, or via email at archivesrequest@sharlothallmuseum.org for information or assistance with photo requests.