by Kathy Lopez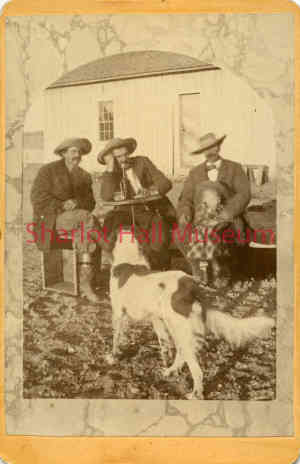 Daniel O'Leary took a solemn oath when he registered to vote in Mojave County, Arizona in 1890. He swore: he was age 57, born in Ireland (1833), a resident in Fort Mojave, and a naturalized American Citizen "by virtue of his father." Beyond those truths, there are volumes written about O'Leary, the scouting legend.
It is difficult to find records of O'Leary's life path that led him to the Arizona Territory in 1867. A few publications allude to him living with, and marrying into, the Hualapai Tribe. O'Leary became known throughout the Territory for his work with the US Army as a guide and scout while serving in Arizona and Mojave territory bordering California. Throughout his life, he worked as a guide, interpreter, Indian fighter, and mountain man for military and private endeavors. O'Leary's exploits as an adventurous trailblazer were chronicled in news articles throughout the Arizona Territory.
For nine years (1869-78) of the 33 years he lived in the southwest, O'Leary lived on the 160-acre Walnut Creek Ranch, 35 miles northwest of Prescott. He scouted for General Crook along with Williamson Valley resident, Al Sieber, a well-known Apache Scout.
An 1867 letter published in Prescott's Daily Arizona Miner describes the battle between the US Army of the Colorado and Hualapai Indians: "Our worthy townsmen, Geo. Spear and Dan O'Leary go as guides; better and more thorough mountaineers than Kit Carson ever was or will be."
The 1870 The Weekly Arizona Miner reported: "Lieutenant Curtis and Daniel O'Leary arrived here, from Camp Tollgate. Mr. O'Leary informed us that on the way, he crossed the trail of a large party of Indians who had recently crossed the road between Williamson Valley and Camp Tollgate."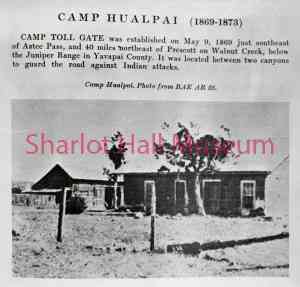 From time to time, O'Leary was employed by the Hualapai Indians as the "American Citizen," their moniker for him. In April 1873, he went to California to purchase horses for them. "In the earlier period of time, O'Leary was their most dreaded foe. They learned to escape from his rifle, but the Hualapai found him to be as generous in peace as he was brave in war."
This 1877 The Weekly Arizona Miner article indicates the US government relied on O'Leary's skills as a scout, interpreter, negotiator and peace maker. "It has been rumored that Hualapais living in the vicinity of Bill Williams mountain had been killed by the stock men of that section. The government has thought it prudent to dispatch Dan O'Leary for the purpose of inquiring into the matter. If (Hualapai were) found to be living in that section, to have them return to their own country."
In May of 1877, O'Leary led 35 Hualapai scouts south to Fort Huachuca to hunt Mimbers Apaches who outran the hunting party by fleeing into Mexico. In their party was Edward Schiefflin, a scout and prospector, who was determined to try his luck in the hills behind the San Pedro River. He was warned by O'Leary that all he would find there would be his tombstone. The 1877 community that grew up around Schiefflin's million-dollar silver strike was (and still is) called "Tombstone".
In the 1880s, O'Leary bought a ranch near Hardyville townsite and hunted minerals instead of renegades and mountain lions. After living 33 years in the Arizona Territory, Dan died in 1900. O'Leary's exploits elevated him from being just one of many immigrants who traveled to the US in the 1800s to the status of a legend. Dan's memory lives on in his namesakes: O'Leary Peak, Basin, Trail, and Campground in Flagstaff as well as O'Leary's Pass that was traversed by Mojave militia.
Excerpt from Williamson Valley & Beyond: Prehistory-1870s by Kathy Lopez, published by Morgan Ranch Park Association, 2022.

"Days Past" is a collaborative project of the Sharlot Hall Museum and the Prescott Corral of Westerners International (www.prescottcorral.org). This and other Days Past articles are also available at www.archives.sharlothallmuseum.org/articles/days-past-articles/1 The public is encouraged to submit proposed articles and inquiries to dayspast@sharlothallmuseum.org Please contact SHM Research Center reference desk at 928-277-2003, or via email at archivesrequest@sharlothallmuseum.org for information or assistance with photo requests.