By Ron Williams
It is a staple of modern westerns: The Earps ride into Arizona. Everyone wants them to be lawmen, but they claim to be retired. Hollywood presents Virgil and Wyatt resistant to strapping on their guns in Tombstone and everywhere else. That has made for compelling story lines, but it is far from the truth. Both always gravitated towards law enforcement. Being peace officers was always their core profession.
Virgil and wife Allie arrived in Prescott in 1877. He delivered mail, drove a wagon, and reputedly ran a saw mill below Thumb Butte. That October, Virgil was hanging with U.S. Marshal Wiley Standefer and Yavapai County Sheriff Ed Bowers. During one such social call, two cowboys wanted for murder pulled guns on Constable Frank Murray on Whiskey Row, and rode hard out of town. Virgil was deputized into the posse consisting of all three aforementioned lawmen, and made a name for himself during the ensuing shootout.
Virgil's heroics paid off. He was appointed night watchman of Whiskey Row. That position was short-lived. He was soon elected constable.
When Tombstone became the next boom town, Virgil was joined in Prescott in 1879 by Wyatt, gambling friend "Doc" Holliday, and Holliday's lady "Big Nose" Kate Horony. The brothers had made plans to get rich in Tombstone. Before leaving Prescott, Virgil was appointed deputy U.S. marshal of Pima County. This ensured he would have clout in Tombstone.
Within six months of arriving in Tombstone, Wyatt, while Virgil was preparing to run for constable, was appointed Pima County deputy sheriff. The Earp boys also had mining and gambling interests in town, but as usual, their base salaries came from being lawmen.
When Tombstone Marshal Fred White was killed in October 1880, Virgil was appointed interim marshal. The village held a special election in November. Virgil lost to Ben Sippy. The regular election for town marshal was held two months later. Virgil again lost to Sippy.
While Virgil was trying to get elected town marshal, Wyatt—unlike movie portrayals of him— had aspirations beyond deputy sheriff. Republican Bob Paul was running for sheriff of Pima County. Wyatt could not support Paul and still work for the current sheriff, Democrat Charles Shibell. Wyatt resigned as deputy sheriff to campaign for Paul. Wyatt's hope was that Paul's election as Pima sheriff would allow him to be reappointed as deputy sheriff for Tombstone, and make him a shoo-in for appointment as the sheriff of the new county. That plan failed, resulting in the appointment of Johnny Behan as the first sheriff of Cochise County.
Even with these setbacks, Virgil and Wyatt were undaunted. Town Marshal Sippy fled town in early June of 1881, leaving several unpaid debts and unbalanced books. Virgil was again appointed interim marshal. He would hold that office until his removal as a consequence of the O.K. Corral gunfight.
The Tombstone gunfight and subsequent "Vendetta Ride" would forever end Wyatt's peace officer career. There were warrants for his arrest in Arizona for murder, and his reputation as a lawman had been damaged beyond repair. Virgil's career, on the other hand, continued for another 20 years.
After recovering from injuries sustained in Tombstone, Virgil sought work as a peace officer. He was elected constable of Colton, California, in 1886. Later, he was voted in as Colton's first city marshal, and was re-elected in 1888.
Virgil left Colton in 1888, and drifted around the west. He returned to Prescott in 1895, where he did some work as a special constable. Despite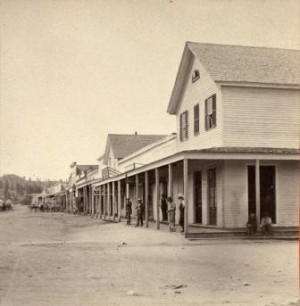 having the use of only one arm, Virgil was nominated as the Republican candidate for sheriff of Yavapai County. He declined the nomination.
Virgil left Yavapai County in 1903. Within a year, he and Allie settled in Goldfield, Nevada, where he worked as Esmerelda County deputy sheriff. He held that position until he contracted pneumonia and died at the age of 62.
Virgil worked as a peace officer in one capacity or another for 27 years. Wyatt, however, was a lawman for only 11 years.
While both brothers held many jobs, they always gravitated towards law enforcement. They never shied away from the responsibilities of the badge.
Join Prescott Constable Ron Williams and author/historian Brad Courtney when they present "Virgil Earp: The Toughest of the Earps?" on January 20 at 2 PM at Sharlot Hall Museum.
"Days Past" is a collaborative project of the Sharlot Hall Museum and the Prescott Corral of Westerners International (www.prescottcorral.org). This and other Days Past articles are also available at www.sharlothallmuseum.org/library-archives/days-past. The public is encouraged to submit proposed articles to dayspastshmcourier@gmail.com. Please contact SHM Library & Archives reference desk at 928-277-2003, or via email at dayspastshmcourier@gmail.com for information.